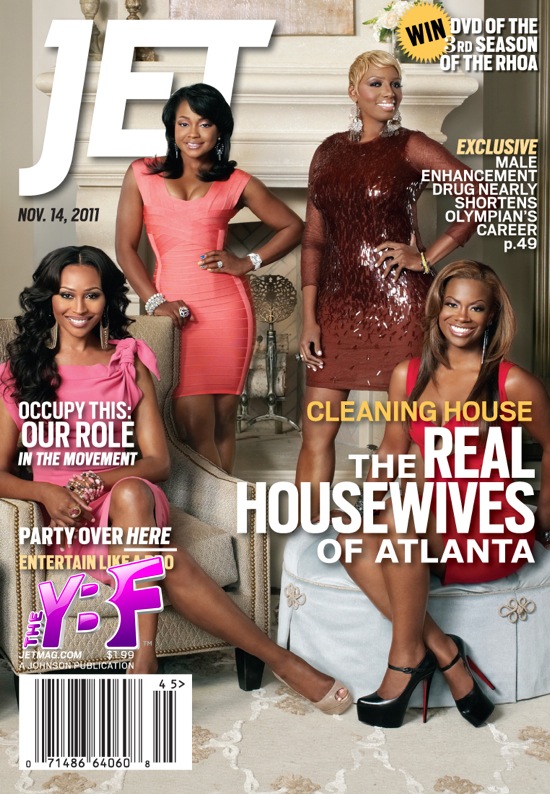 The ladies of The Real Housewives of Atlanta (minus Kim and Sheree) show up on the cover of the November 14th issue of JET Magazine, where the women dish on how they really feel about each other:
JET asked the ladies to give their takes on all their other castmates.

So Sheree said about NeNe, "I wouldn't trust her as far as I can throw her."

Kandi applauded NeNe saying, "She's a hustler….She's about getting paper. She's always got something in the works." But kept it real about Kim saying, "She's the type of person who knows how to play dumb when she wants to but really knows what's going on…"

Kim stayed mum about her frenemy NeNe saying, "It is what it is…" and revealed that she finally stopped smoking once she got pregnant again.

Phaedra said about Kandi, "She's a brilliant businesswoman. She reminds me a lot of myself, and I just love her." Of course she does Phaedra….

Cynthia said about Kim, "We definitely had some tiffs, but only about trivial things. But on the show it ends up looking like big things."

NeNe revealed she has a wine coming out and she's now a restauranteur–after opening her Famiglia franchise. And she had some ish to say about her castmates. About Kandi she said, "She's real, she's down to earth. But Kandi is not easy to get to know. I actually find her kind of mean."

About Sheree she says, "Sheree is very mean spirited. I think Sheree thinks she's everything. She's got a bad attitude."

And about Phaedra, NeNe commented, "I almost feel like she was that girl at home looking at the tv going, 'Let me on that show!' I call her Fake-dra."

[YBF]
The upcoming 4th season of "The Real Housewives of Atlanta" Premieres this coming Monday, November 7th!
Watch a sneak peak clip below:
Be the first to receive breaking news alerts and more stories like this by subscribing to our mailing list.