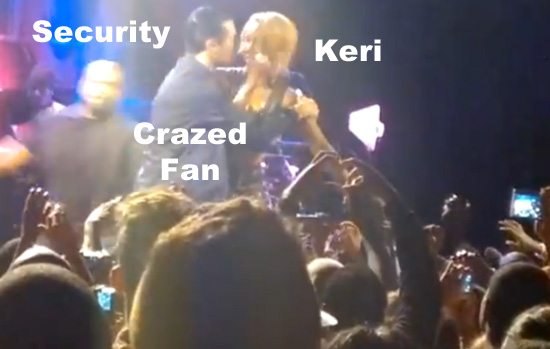 Keri Hilson narrowly escaped injury after an overzealous fan ran up and snatched her up during a recent concert in Paris.
The R&B songstress was performing a song from her latest album "No Boys Allowed" when a guy rushed the stage and grabbed her for a hug. Within seconds, security jumped into action, grabbing the fan and knocking him to the ground. In the video footage, Keri looked to take a blow of her own in the process.
Despite the close encounter with the crazed fan, Keri kept her composure and continued on with the show. She even joked about the incident a little bit afterwards, tweeting:
To the guy who ran on stage & stole a kiss, I LOVE YOU TOO. Didn't appreciate how u were handled. But next time, enjoy from the audience 😉

I just learned that dude jumped from the 2nd story balcony for the task… ok, so maybe he was a lil crazy! Just jokes. I love my fans, yo!!!
Glad Keri's okay! People these days are CRA-ZY.
Peep the video footage below (around the 3:30 mark):
Be the first to receive breaking news alerts and more stories like this by subscribing to our mailing list.