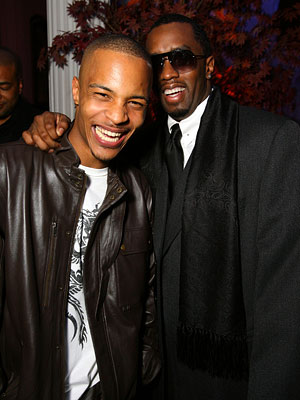 T.I. had to scold Diddy after the Hip-Hop mogul, who Forbes say is on the way to be becoming rap's first billionaire, got really violent with a fan for choosing to drink Grey Goose over Ciroc (the drink Diddy sponsors) at a BET Hip-Hop Awards after-party at Compound nightclub in Atlanta over the weekend!
In the video footage that is floating around the web, you can hear Diddy shouting obscenities at the man, like "Bitch ass n**gas, put that sh*t down, before I come smack that purple shirt off your ass!" before grabbing what appears to be a non-Ciroc alcohol beverage, and throwing it at the man, continuing with his alcohol-fueled rant.
"What the f**k are you gonna do, b*tch? F**king f*ggot ass light skin n**gas get the f*ck out of my face!" the rapper shouted.
Minutes later, T.I., who was just sprung from prison earlier this month and released from an Atlanta halfway house last Thursday, grabbed a microphone and begged Diddy to chill out, telling his friend, "I ain't with none of that f*ck shit. I'd get the f*ck on up out this b*tch and let y'all handle it. I've done enough time."
He continued, "Puff you got too much mother f**kin money for that sh*t, n**ga. Let them ni**gas drink what the f**k they want to drink. I love you n**ga … you know I will go to war with you, but come on man … let's go."
All of this was captured (from two different angles) by GrindHD.com.
Watch below!
Be the first to receive breaking news alerts and more stories like this by subscribing to our mailing list.