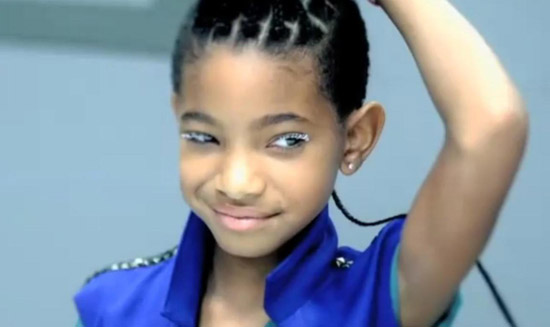 Willow Smith is almost done with her debut solo album, according to producer Ronald "Jukebox" Jackson, who produced the 10-year-old's platinum selling 2010 hit single "Whip My Hair."
"I did like eight, nine songs on [Smith's debut] Willow, so right now, we're in the process of just trying to close out the album," Jackson revealed to MTV News, explaining that the label didn't want to rush Smith after her initial success. "It's just the whole process. You've got to think about it: she's a 10-year-old girl. She's gotta have a life, she's gotta be a kid."
As for the album's sound, Jukebox says it will be a melting pot of different sounds.
"Willow is kind of a combination of what 'Whip My Hair' was. Willow just isn't a pop star, she isn't just an urban artist; she's very international," he explained. "A lot of her music has a very big influence of everything from rock to pop to hip-hop."
Jukebox also revealed what the next single will be.
"Next single which I'm praying for is a record I did called 'Rock Star.' … She's been performing it everywhere. It's getting very great reaction," he said. "We also did a record with Diggy Simmons that's incredible. … She's just a combination of everything pretty much."
After "Whip My Hair" and "21st Century Girl" … we can't wait to see what team Willow has under their sleeves!
[MTV]
Be the first to receive breaking news alerts and more stories like this by subscribing to our mailing list.