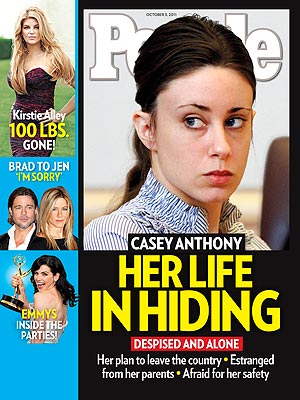 Since her release from jail on July 17, Casey Anthony — described by a Department of Corrections spokeswoman as "one of the most hated women in America" — is broke, unemployed and estranged from her family.
Now hiding in Florida, Anthony may leave the United States after her probation is over next year. A source tells PEOPLE in its latest cover story that Anthony plans to take language classes because "she realizes she may have to live in another country."
Anthony, who was acquitted of murder in the death of her 2-year-old daughter Caylee, has received dozens of angry letters, including a stack of greeting cards on Aug. 9, which would have been Caylee's 6th birthday.
"She would love to go out to meet friends and do public things," says the source, "but she knows she can't."
Anthony is now seeing a grief counselor and a psychiatrist and has "started to learn and recognize her lies and what they did to people," says a source. "She has a lot of regrets."
For more on Casey Anthony's new life in hiding, pick up this week's issue of PEOPLE, on newsstands Friday.
Republished from: People.com
Be the first to receive breaking news alerts and more stories like this by subscribing to our mailing list.