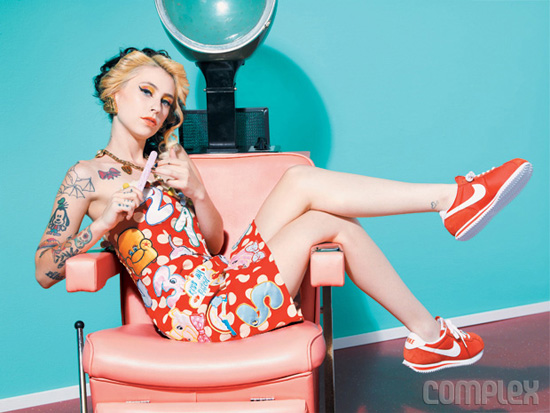 Yesterday, we showed you Kreayshawn on the cover of Complex Magazine's upcoming October/November 2011 issue, and after finally getting a chance to read through this rather … "interesting" interview, we thought we'd share our 5 favorite quotes!
Check them out below:
1. On her buddy V-Nasty using the N-word:
"Why do I keep getting dissed and gotta ignore it like nothing is going on? I've never said it one time in my motherfucking life…
"Everyone thinks I'm Vanessa [V-Nasty] and I have to answer [for her actions] every day in every fucking interview. I've sat down and had talks with [V-Nasty], like, 'Please, if you took this word out of your vocabulary, it would help your career. It would really help mine.' She's just been like, 'This is who I am. This is how I was raised. I'm not gonna change for anybody,' and I respect that. She doesn't have to listen to me."
2. On Game threatening her and saying he's going to put a rifle in her face because of the N-word situation:
"I'm going to say, 'Game's a weak ass Blood, he ain't about to do shit.' I wanna slap a grown-ass man in the face. Am I just supposed to get dissed every day and be a weak ass little white bitch? Fuck that shit. I'm tired of people disrespecting me."
3. On quitting her day job to "trap full time" and pimp girls out on Craigslist:
"I quit IKEA and started trapping full-time. I was driving around in a pink Mustang at two in the morning, no license, with like two 15s in the trunk, serving knots. Then these girls I met, they were on their hustle, too. They brought me this new idea, it was safer than selling drugs. I posted the links for them, took the anonymous pictures, and set up the dates and prices."
4. On not having a job, and recording music videos for local artists (after her short stint at a crack dealer and a pimp):
"I was doing music videos for free. If you're editing and filming all day, you don't have time for a job. My mom was super worried. I was selling weed and stuff and my roommate was getting the hook-up with prescription pills. But our main focus was art."
5. On her authenticity and whether or not she think she's commercial:
"I never looked at myself as a marketable person. I just try to let my personality shine through. Do you think a 16-year-old girl gives a fuck about where I'm from or what I've done? No, she loves the songs."
Classy gal, huh?
Be the first to receive breaking news alerts and more stories like this by subscribing to our mailing list.