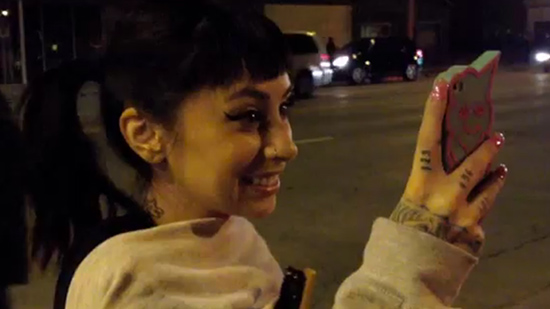 If you find yourself asking "Who is Kreayshawn?" no need to worry … we'll bring you up to speed.
The Bay area female rapper first broke onto the scene in 2011 when she released the viral video for her record "Gucci Gucci" with her white girl mob. What followed was a bidding war between labels and about a year later her major label debut released, only to sell 3,900 copies.
Since her debut album's release, Kreayshawn has been hard at work rebuilding whatever fan base she has left by embarking on tour. Her current tour is the "Group Hug" tour featuring other unfamiliar up and coming female rap artists such as Honey Cocaine, Rye Rye and Chippy Nonstop.
After a stop in Bloomington Illinois Kreayshawn's tour bus caught on fire after a "generator exploded." If only Kreayshawns music career could simply re-ignite in the same manner, maybe she will be able to sell more records the next time around.
All jokes aside, it is good to hear that no one was seriously injured and Kreayshawn and company were able to continue the tour after quite the scare.
Check out Honey Cocaine's woman on the street account of the events below:
Be the first to receive breaking news alerts and more stories like this by subscribing to our mailing list.