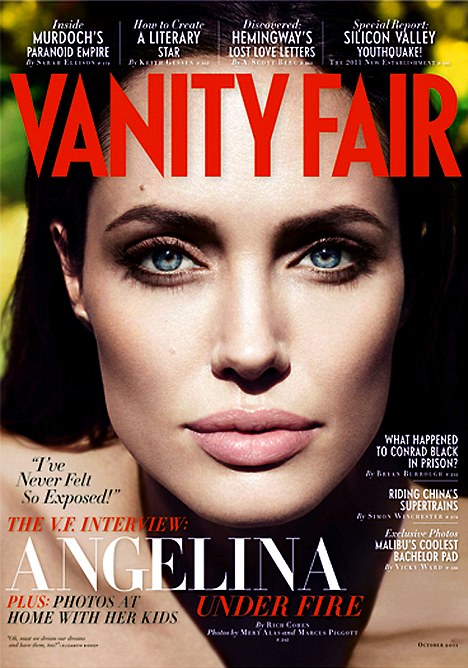 Angelina Jolie's face is plastered on the cover of the October 2011 issue of Vanity Fair Magazine.
Inside the issue, the actress clears up rumors regarding her relationship with Brad Pitt and whether or not they plan on making any additions to their already large family.
"There is no secret wedding … I'm not pregnant. I'm not adopting at the moment," she tells the magazine.
In the interview, she also reveals her fears of writing the screenplay for her directorial debut in "The Land of Blood and Honey."
She admits that she tried to get Brad's opinion on her work, but found out that their close relationship meant that he wasn't a "fair judge."
She said: "He'd come in and say what he liked or what he didn't understand. Like any woman, I would listen to most of it and fight a few things. He's been so supportive. But it's hard to separate the person that loves you from the critic, so I don't think he's a fair judge."
Jolie admitted that she wrote the script when she was suffering from the flu, and had to quarantine herself away from her children by locking herself in the attic.
"I was in the attic of a house in France. I was isolated, pacing. I don't watch TV and I wasn't reading anything. So I started writing. I went from the beginning to the end. I didn't know any other way."
For more on Angelina Jolie, pick up the October issue of Vanity Fair when it goes on sale on September 1st.
Be the first to receive breaking news alerts and more stories like this by subscribing to our mailing list.