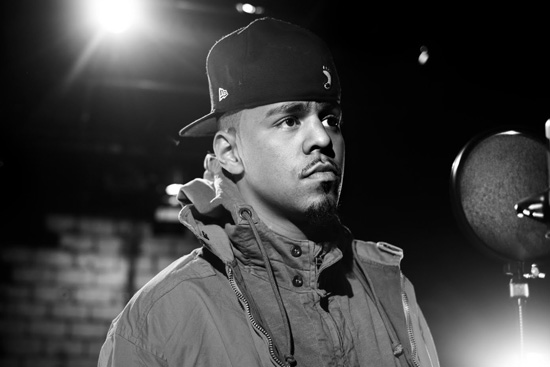 J. Cole kicked off his "Cole World Tour" this week in Vancouver, Canada, and after he invited a young lady on stage, he noticed that his phone had gone missing. (Swiper no swiping! lol)
Fortunately for the Roc Nation rapper, he had a film crew shooting his entire performance, and they have the footage of the thief as she swipes the cell phone from Cole's pocket.
So Cole took to Twitter and blasted the thieving woman, threatening to release the footage if she doesn't hand his celly over.
He tweeted:
People always ask my craziest experience on the road. Tonight the wildest sh*t happened. [Shout-out] to the girl in the front row with the white shirt and pink bra. Before I put this footage online of you stealin my phone out my pocket lol.

Ima let you save the embarrassment and world star fame by hittin @kingofqueenz or @iamdjdummy so I can get that back asap. You got a few hours.

You're a G, but thank God for Cole Summer camera crew. And please don't call Jay-Z, he on vacation.
LOL @ J. Cole's message … but why the hell did he have a phone on him when he was on stage anyway? Who does that? What, is he gonna answer the phone or respond to a text in the middle of a show? Probably not.
On another note, any celeb who's given J. Cole their number should probably get it changed ASAP. Because even if the girl does decide to be a good samaritan and return the phone, who knows what she did with the numbers in it!
Be the first to receive breaking news alerts and more stories like this by subscribing to our mailing list.