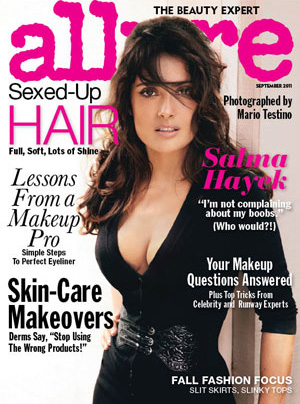 Salma Hayek landed on the cover of Allure Magazine's September 2011 issue, where the sexy Mexican actress talks about a number of topics, including her famous figure, her image, getting teased as a kid, her thoughts on plastic surgery, living a luxurious lifestyle and more.
On being teased as a kid:
"I got teased because I was too short, or I was too brown. You would think in Mexico that would be something normal, but I did get teased."

On her famous figure and being confident about her sexuality:
"My boobs, they're not bad, by the way. I'm not complaining about them. As a woman, you should be more at ease with your sexuality when you are in your 40s. You are more self-assured about that part. And that's the way it should be. If you are a girl who cannot walk in heels, it doesn't matter how beautiful you are. If you look like a chicken that's been spiked in the feet, it's not going to be sexy."

On her sexy image:
"When I first started, I found that I had to play the part of something they could swallow in Hollywood, which was the sexy Latin girl, I was not dressing like that in Mexico."

On letting her daughter live a luxurious lifestyle:
"I never understood the point of being privileged if you don't get to have the privileges. Like, people who won't take their kids to an expensive restaurant, or won't travel with them, or make them pay for everything at a really young age. I think it's important that kids have responsibilities and understand the value of things, but I think it's great I get to travel the world with my daughter."

On plastic surgery:
Hayek believes in fighting aging—up to a point. "I believe that every woman is entitled to fight to preserve her youth," she says. But not by becoming overly surgified by celebrity dermatologists. "It's like the uniform of a generation," Hayek says. "And it's not necessarily beautiful. It's not wrinkled-looking, but it's not beautiful.

How she keeps herself up and ended up developing a beauty line:
"My career has given me a lot of experience to be under pressure of having to be beautiful, and having to look for tricks to make it work," says the actress. Now, Hayek has taken those tricks (she's been applying "creams" her whole life, she says) to develop a beauty line, Nuance, which launched this summer at CVS.
The issue hits newsstands next Tuesday (Aug 23)!
[Allure]
Be the first to receive breaking news alerts and more stories like this by subscribing to our mailing list.