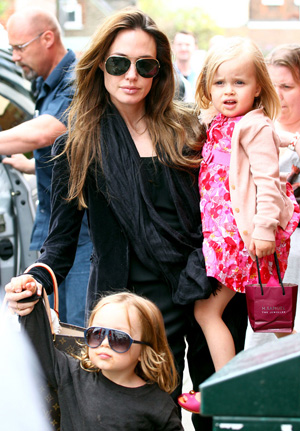 While the majority of people would love to get out of London due to the rioting and looting … film star Angelina Jolie is not leaving the British capital.
Jolie and her 6 children are refusing to give into the violence and flee the city. An insider from the Jolie-Pitt camp said: "Angelina has visited some of the most dangerous places on the planet and isn't about to pack her suitcase and evacuate just because a very small minority of violent youths have taken to the streets."
Although the famous family unit have no plans to leave the UK (Brad Pitt is currently in the U.S. filming a new movie), an ex-member of the British police force confirmed, "Angelina and her family could not be safer. She has her own private security and the rioting is limited to areas that she is staying away from. What you are seeing on television is just awful but it is confined to a few very small areas."
Violence broke out on the streets of London over the weekend after British police shot and killed a 29-year-old Black male.
Be the first to receive breaking news alerts and more stories like this by subscribing to our mailing list.