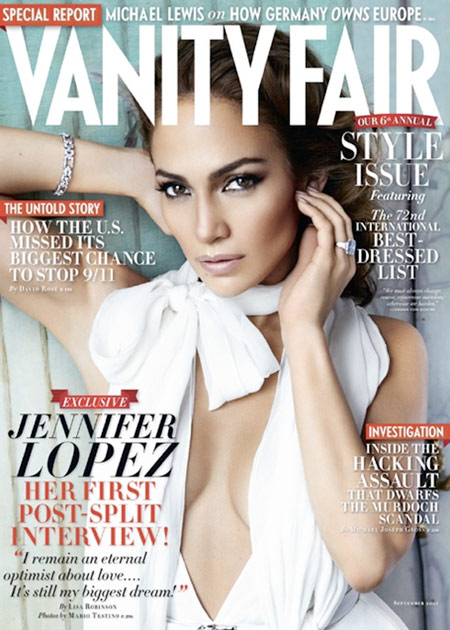 Jennifer Lopez opens up about her divorce from Marc Anthony in the upcoming September 2011 issue of Vanity Fair.
In her cover story, the 42 year-old entertainer told the magazine that following her split from her husband of 7 years she is determined to move forward in life and take on new challenges.
"Sometimes it doesn't work, and that's sad. But I remain an eternal optimist about love," Lopez said. "It's still my biggest dream. I am positive — determined — to move forward with my life, bring up my babies and do the best job I can as a mother, entertainer and person. I now look forward to new challenges. I feel strong."
Ever since her split with Anthony, Lopez admits that she is now able to love herself … something she says many compromise in relationships.
She says, "It's not that I didn't love myself before. Sometimes we don't realize that we are compromising ourselves. To understand that a person is not good for you, or that that person is not treating you in the right way, or that he is not doing the right thing for himself — if I stay, then I am not doing the right thing for me. I love myself enough to walk away from that now."
Despite their break-up, Jennifer and Marc remain good friends and he will always have a special place in her heart.
"I'm a hopeless romantic and passionate person when it comes to love," Lopez revealed. "I will always respect Marc as a singer and performer. We actually work great together, and he was always very supportive. Together we could make magic—and we did. He will always be in our lives. He will always hold a special place in my heart as the father of my children."
Be the first to receive breaking news alerts and more stories like this by subscribing to our mailing list.