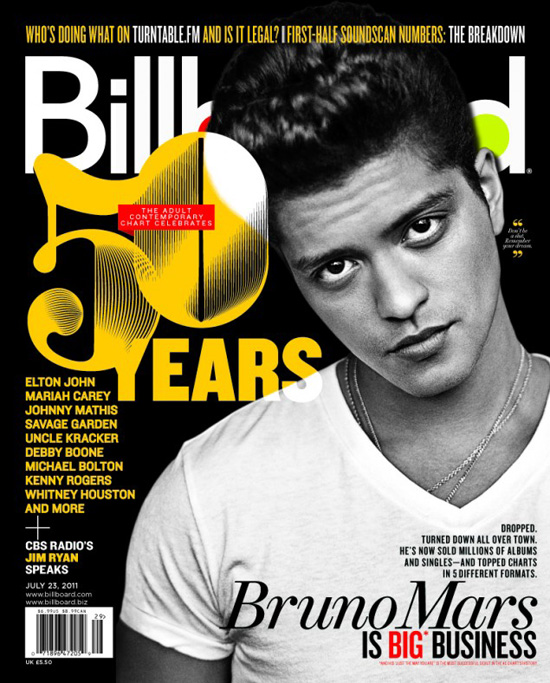 R&B singer/songwriter Bruno Mars covers the latest issue of Billboard Magazine where he explains his rise to fame, what it was like being dropped from his original label Universal Motown, being caught with drugs, his future plans and more.
On getting dropped by his first label, Universal Motown:
"I wasn't ready for it. I did nothing. And the lesson was — why are you waiting for someone to come and write a song with you? You know how to play the freakin' guitar. Do it on your own.

"There was a lot of rejection. A lot of other labels saying, 'You don't know who the hell you are. You're doing all this reggae, R&B, rock stuff. How the hell do we market that? Are you pop? Are you urban?' Elektra gave me a shot and trusted my vision."

On how he became a songwriter first:
"Brandon [Creed, then VP of A&R at Epic Records] was always saying, 'You need a story. You need to be in the studio writing for people.' At the time I was like, 'You're crazy. I'm amazing!' But he was absolutely right. Working and interacting with other artists and being so involved with the business aspect; understanding A&R, understanding radio, understanding music videos meant that when it came to my time, I'd seen how it goes."

On being caught with cocaine:
"It's something that I wish would go away. It's a cloud that constantly follows me no matter how many achievements. I'd like to move on. To show that I'm here for my music. Not to be in a tabloid."

On his success:
"It's a rare thing that happens, especially in this day, where it's real hard to sell albums. I'm traveling to places that I've never even heard of and there are all these people singing the songs back — and English is not even their first language. It's like, what the hell happened?"

On who he would like to work with in the near future:
"I'm just a mixed-up dude. I want to work with the Kanyes, the Jay-Zs… a Rihanna, a Gaga, Kings of Leon, Mumford & Sons. I want to do all those things. As proud as I am of "Doo-Wops," I feel like, 'Oh, man. People haven't seen nothing. They don't even know what I'm about to do,' and that's what I can't wait to show the world."

Words of Wisdom for Artists:
"When people fall is when they're like, 'OK. Now I'm here, what's next? A clothing line?' That's not what I'm trying to do. It's like, 'Don't be a slut. Remember your dream. Do your music and keep it special.'"

[Necole Bitchia via Billboard]
Be the first to receive breaking news alerts and more stories like this by subscribing to our mailing list.