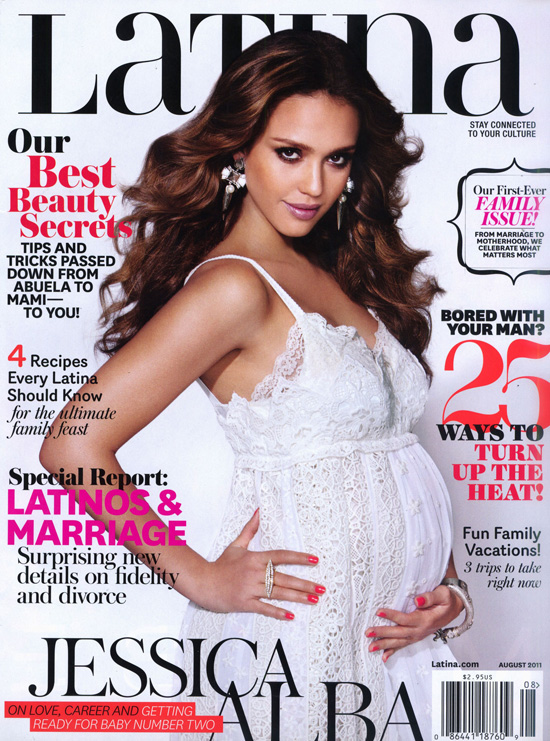 Draped in a white Dolce & Gabbana dress, Jessica Alba proudly flaunts her baby bump on the cover of the latest issue of Latina Magazine.
"If you are sporting a pregnant belly, it's better to show it than to hide it," the expectant actress told the August 2011 issue of mag. "The more figure-forming your clothes, even though you have more curves, the better."
Read more excerpts below:
On preparing for a second child:
"The first time around, every moment was so new and terrifying and now I know what to expect. It's like 'It's fine, I've been there before.' With Honor, I was constantly asking myself 'Is she moving? Is her heart beating?' I'd worry about everything, and with this baby I don't have the same anxieties."

On balancing motherhood & her career:
"After I had Honor I didn't leave the house for a while. It was all about changing diapers and feedings and still trying to get back in to the routine of my [acting] thing. I love what I do. But unless it's worth it, I'm not going to spend time away from my daughter. Before I had her, work was all I had. Now it's not."

On the possibility of a third baby:
"I just have to feel it out. See how my 30s treat me. I just try to live in the moment."

On her insecurities:
"I was a lot more insecure when I was younger. I was very sensitive to criticism. Now I'm definitely a lot more self-assured." In 2008, she told Latina: "All of the stuff I got made fun of as a kid– bubble butt, fish lips, the dark skin – I'm proud of now."

On landing her breakthrough role:
"I certainly knew the significance of Dark Angel because I knew how difficult it was just to get to that point. A lot of people didn't even give me a chance based on how racially ambiguous I looked."
Jessica Alba is expecting her second child with her husband Cash Warren. The couple are already parents to 3-year-old Honor Marie.
Be the first to receive breaking news alerts and more stories like this by subscribing to our mailing list.