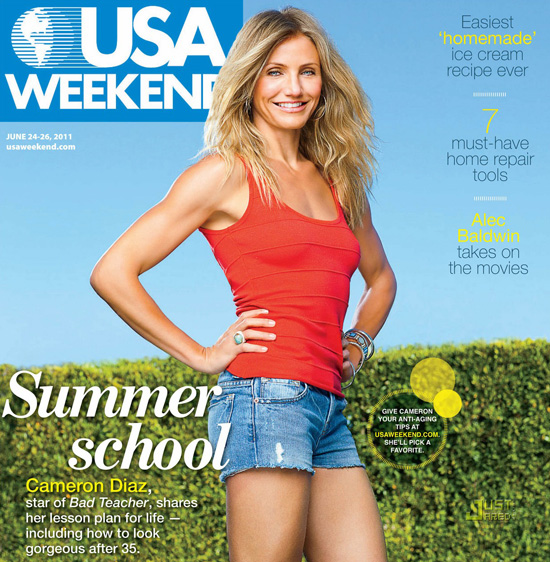 Cameron Diaz dresses down in a red tank top and daisy dukes on the cover of the June 24th – 26th edition of USA Weekend.
Inside the issue, the "Bad Teacher" star talks about living life on the road since she was 16, her ex-boyfriend and co-star Justin Timberlake, eating healthier now that she's older, and much more.
Check out a few excerpts below:
On living life on the road:
"I think I was meant to live on the road. I have been doing it since I was 16, and when I am somewhere for too long, I always get an itch to go someplace else."

On ex-boyfriend and co-star Justin Timberlake:
"We have always liked each other. I am not the same person I was when I was with Justin. Our lives have moved in different directions, and that's OK."

On eating healthier:
"I used to eat fried food from morning to night when I was in my 20s. But I have really had to make some changes. I love fried chicken and french fries. I can't do that anymore. As I get older, I realized I was working a little bit harder at digesting what I was eating, and I thought it is not fair to my body to keep doing this. If you are giving it a bunch of crap all the time, it will break down quicker and deteriorate quicker, so I stopped."
[Cover & Quotes: Just Jared, Pics: USA Weekend]
Be the first to receive breaking news alerts and more stories like this by subscribing to our mailing list.