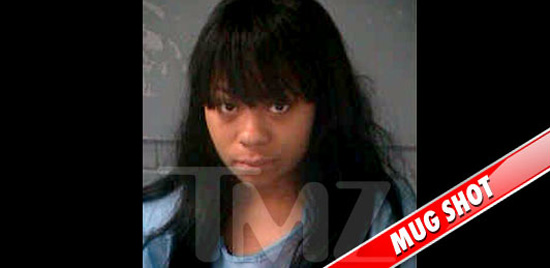 R&B singer Nivea, who just so happens to be Lil Wayne's fourth baby mama, was busted in Atlanta for DUI over the weekend after she crashed her '06 Mercedes into a tree, and now we have the mugshot, thanks to TMZ!
After Nivea left a wedding reception for Toya Carter at around 1 am (Lil Wayne's ex wife and first baby mama) Sunday morning, she (with a child in the car) slammed into a tree that had fallen during a recent storm in the area. Once cops arrived at the scene, Nivea had "bloodshot, glassy eyes and smelled like alcohol."
Nivea told the cops that she was NOT drunk (she only had a few drinks earlier in the evening) and she didn't see the bright yellow crime tape and the traffic cones put in place to direct cars away from the fallen tree. Nivea was arrested on suspicion of DUI and reckless driving, and the child in the car wasn't injured and was released to Nivea's boyfriend.
As far as Nivea is concerned though, sources close to her family are sticking to her original story: she was NOT drunk (or speeding) at the time of the crash.
She was just a little tipsy 🙂
[TMZ]
Be the first to receive breaking news alerts and more stories like this by subscribing to our mailing list.