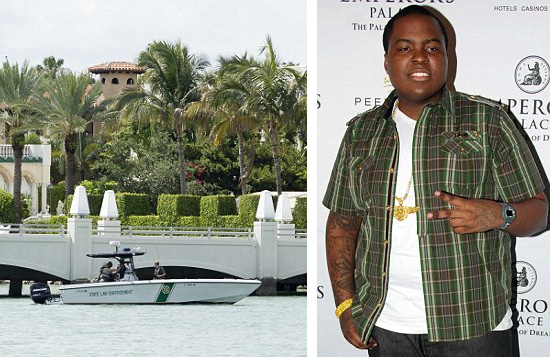 Sean Kingston is lucky to be alive. The "Beautiful Girls" singer was involved in a horrific (and nearly tragic) accident over Memorial Day weekend after the jet ski he and a friend were riding on crashed into the Palm Island Bridge in Miami. And had it not been for a couple of heroic rescuers, this news story would be completely different.
The heroic rescuers who came to Sean Kingston aid following his jet ski crash yesterday have described how they discovered the singer vomiting blood and almost drowning.

Jonathan Rivera, who by chance was a member of the Coast Guard, and friend Jimmy Vega were in a boat approaching Palm Island Bridge in Miami where they witnessed the aftermath of the accident. They quickly jumped into the water where they found Kingston 'extremely dazed' and 'coughing up blood'.

His life jacket had come off in the smash and he was 'in danger of drowning,' according to his rescuers. The Hip-hop singer, who was initially described as in a critical condition, was today stabilized and moved to the intensive care unit at a hospital, a spokesman for the 21-year-old star confirmed. A female passenger with Kingston was also injured and is receiving hospital treatment too.

Rivera say he was called over the scene by another man and a woman on a jet ski, who were struggling to keep Kingston's head above water. The Coast Guard worker helped by grabbing hold of Kingston, recalling how he was 'puking up blood' and convulsing, TMZ.com reported.

Vega told RadarOnline that Sean had a severe gash to the neck and was conscious, but didn't appear to be bleeding from the head. '[He was] extremely dazed and was in danger of drowning,' 34-year-old student Vega recalled. After around 15 minutes a police boat arrived and Kingston was taken to an ambulance where paramedics took over. Rivera described how Sean was able to communicate while being helped into the boat.

When help arrived, Rivera told Sean he was going to be OK, to which the singer replied: 'I'm going to be okay,' Rivera described. Kingston's female passenger, meanwhile, was still in her life jacket after the crash and was floating in the water, complaining that her head was hurting. But she did appear to be going in and out of consciousness, according to Vega.

Kingston's publicist, Joseph Carozza, said the singer's family is grateful for everyone's prayers and support.

Kingston rose to fame with his 2007 hit Beautiful Girls and was also featured on songs by artists including Justin Bieber. His self-titled debut album sold over 1 million copies worldwide.

On Twitter, Bieber posted a message of support for Kingston.

'Got my friend Sean Kingston in my prayers tonight,' Bieber tweeted early Monday. 'A true friend and big bro. Please keep him in your prayers tonight as well.'

Rihanna tweeted: 'Sean we praying for u baby.' Rap star LL Cool J wrote: 'I hope and pray that Sean Kingston recovers quickly…. #staystrong.' And female rapper Nicki Minaj, who worked with Kingston on the current single Letting Go (Dutty Love) wrote on her Twitter page: 'My love & prayers are with Sean Kingston & his family.'

Reality TV star Audrina Patridge and singer Lucie Jones were also among those posting messages of support. On her Twitter page Jones wrote: 'Oh nooo :/ #seankingston xxx praying4u', while TV beauty Patridge added: 'pray for Sean Kingston who is critical after jet ski crash.'

Kingston's music pal James Rosemond – aka LilHenchmen – allayed fears over his condition, posting the message: "Just left the hospital and great news my big bro @seankingston is doing fine..Thanks to all the prayers and the love. WE LOVE YOU BRO!"
Here's to a speedy recovery for Sean Kingston!!
Be the first to receive breaking news alerts and more stories like this by subscribing to our mailing list.