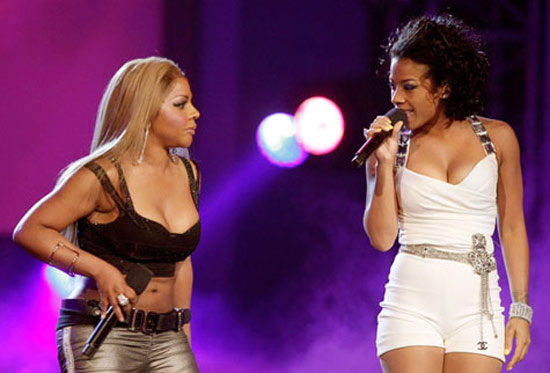 Lil Kim just can't stop being confrontational….
Yesterday, the Queen Bee took things to the max when R&B singer Keyshia Cole sent out the following tweet:
"N while we're addressing everything, Lil Kim and I a r not "friends" I take that term very seriously. We made wonderful music. That is it."
Now don't get us wrong…..we would be mad too if somebody randomly came out the blue saying we weren't friends, but it wasn't this serious!!
Check out what all Kim had to say below:
@keyshiacole U got that right. We are not friends. The same way U take friendship seriously i take loyalty serious.

@keyshiacole The whole world has seen me extend my hand to u over and over again.

@keyshiacole Only someone who's trying to build a sincere relationship does shows 4 free & supports. u did not pay me a dime 4 none of that.

@keyshiacole That warrants some type of loyalty and respect.

@keyshiacole Friend or no friend i would have never let anybody disrespect u on my record but i can't expect everyone to be as real as i am.

@keyshiacole At the end of the day karma is as real as i am and it's coming to get u. oh wait…if it hasnt got u already…

@keyshiacole My love & loyalty to u got u a hit, ur friendship with ur friend got u a flop.

@keyshiacole looks like u need to choose ur friends more wisely dont u think? #teamlilkimLEGGGGOOOO
We think both of them need to do like their collaboration and "Let It Go"…..sheesh.
Be the first to receive breaking news alerts and more stories like this by subscribing to our mailing list.