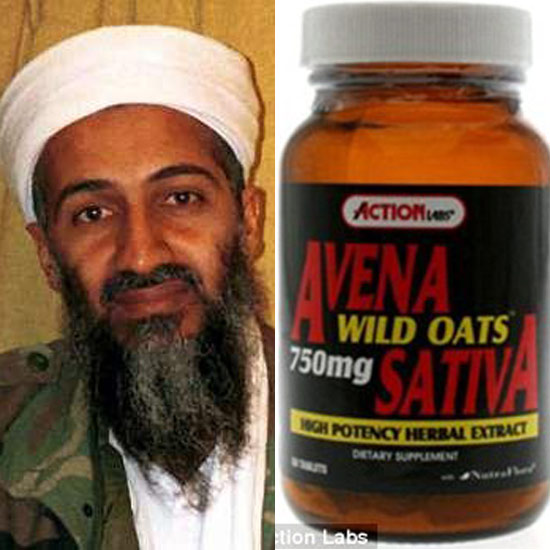 All you fellas out there with E.D. don't feel too bad…even Osama Bin Laden had trouble getting it up!
According to various reports, Osama Bin Laden was a firm believer in herbal Viagra. Read more below:
Osama Bin Laden was taking herbal Viagra when he was living in his Pakistani compound.

The health of the tall, thin terror leader was the subject of much speculation in the last few years.

Some in intelligence circles even believed he was having kidney dialysis treatment.

But now evidence pulled from the medicine cabinet in his hideout, and interviews with his young wife in the Pakistani media, appear to show bin Laden, 54, was not in bad shape.

They also show his fondness for herbal remedies.

NBC News got hold a list of medications found in the Pakistani compound. None are used to treat long-term chronic illness.

There were drugs to treat high blood pressure, ulcers, shingles, nerve pain and common childrens' complaints.

They also found Avena syrup, an extract of wild oats that is marketed as a natural impotence cure.

Aside from its use to increase sexual desire and potency, Avena syrup is also used as an artificial sweetener often used for a sour stomach.

'The caution is, we don't know who used what," said Cynthia Reilly, a pharmacist and director of practice development for the American Society of Health System Pharmacists. 'And we know that in the United States, 40 percent of medication use is off label," meaning it is used to treat conditions for which it has not been approved.

Bin Laden's youngest widow Amal, 29, told Pakistani investigators: 'He was neither weak nor frail.

He believed in his own medication.'

According to Pakistan's Dawn newspaper, Amal, a Yemeni national who was only 17 when she wed bin Laden, said he had recovered fully from two kidney surgeries a decade ago.

The Saudis are thought to have hired an assassin to poison Bin Laden in 1999 and the toxin gave him kidney failure.

Amal said he was not on dialysis and helped treat himself by eating a lot of watermelons.

She told officials that she and Bin Laden had just gone to bed and had switched off the lights when they heard the first gunshots of the 1am Navy SEALs raid.

Before Bin Laden could reach for his AK-47, the commandos had burst in and shot him, she said.

Amal, who was bin Laden's fifth wife, was shot in the leg in the raid.

She has told investigators that neither she and nor bin Laden left the compound in the last five years, both living like virtual prisoners.
We guess trying to destroy the world makes it a tad bit difficult to get a hard-on…..awkward.
Be the first to receive breaking news alerts and more stories like this by subscribing to our mailing list.