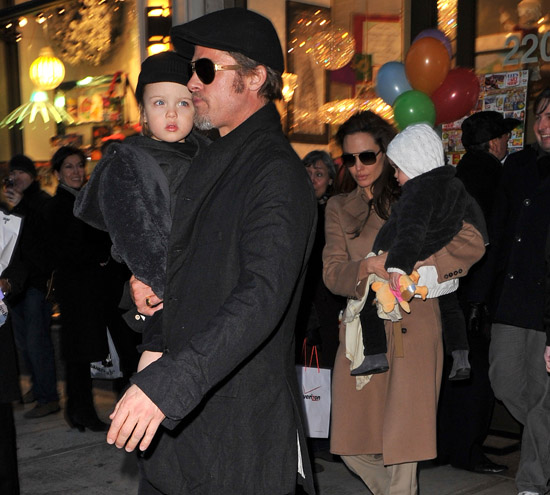 How in the world can anyone justify spending over $10 million a year on six kids? Well, Angelina Jolie and Brad Pitt sure can!
New reports from The Sun claim that the couple spends at least $36,000 on food, $63,000 on birthday parties, $150,000 on "activities" and nearly $100,000 on clothes, while tutors traveling with the family can cost as much as $990,000. And that only amounts to about $1.3 million, so who knows where the other $8.7 million is spent.
But how on earth can the Jolie-Pitt family justify spending so much money on their kids? "They donate millions a year to charity – that's how they justify spending so much," a source told the UK newspaper.
But it looks like the spending isn't going to stop there as the couple are on the look-out for a new nanny, who will receive a handsome yearl salary of $150,00 to look after the Jolie-Pitt brood.
An insider said: "It's a coveted position. Brad and Angelina's requirements are justified – they only want the best for their kids. The pay packet and lifestyle make it a pretty amazing deal. Not only have Brad and Angelina got to be able to trust the nanny completely with the kids but the new carer must also respect the family's privacy."
There are also rumors that the couple are looking into adopting a 7th child, which means that they will be spending even MORE money. The Jolie-Pitts definitely have "racks on racks on racks!"
Be the first to receive breaking news alerts and more stories like this by subscribing to our mailing list.