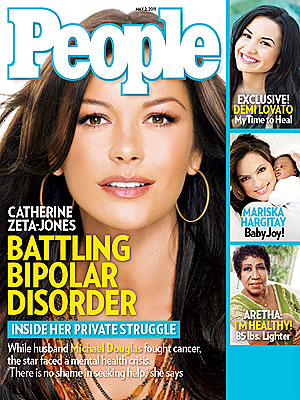 As most celebrities shy away from admitting that they are imperfect, actress and wife of famed actor Michael Douglas, Catherine Zeta-Jones has openly admitted that she suffers with bipolar II disorder.
In a recent exclusive interview with PEOPLE Magazine the 41 year old actress said of her diagnosis:
"This is a disorder that affects millions of people and I am one of them. If my revelation of having bipolar II has encouraged one person to seek help, then it is worth it. There is no need to suffer silently and there is no shame in seeking help."
On April 10th Catherine checked into mental health facility Silver Hill Hospital in Canaan, Conneticut where she was able to take a break and recuperate.
It's no shock that the actress's health came under attack after she cared for her husband endlessly following his battle with throat cancer. Although Michael recovered, Catherine found herself suffering from depression.
A close friend explained: "The simple things would just seem overwhelming, like going out to dinner. There was just a little piece of her chipped away. It was hard to watch because I knew how hard she was trying."
Be sure to check out Catherine's cover story in PEOPLE this week when it hits newsstands.
Be the first to receive breaking news alerts and more stories like this by subscribing to our mailing list.