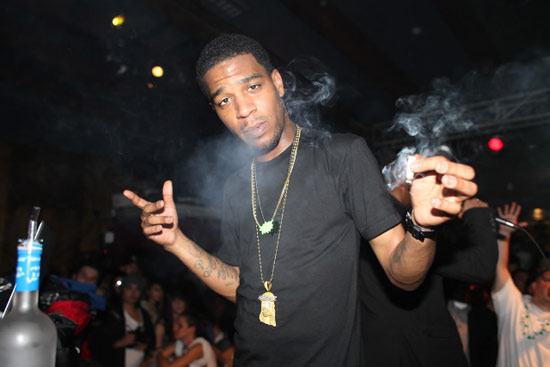 We're not quite sure if this is an April Fool's joke or not but rapper Kid Cudi claims he has quit smoking!
Cudi posted the following to his Tumblr page earlier today:
I don't smoke weed anymore. Ill leave it to the kids. Im 27 with a business to run and i need to be alert and focused with my mind strong. For those who still get it on, smoke one in my memory as your favorite lonely stoner.

This is not a joke. I know most of you wanna see me all drugged out and fucked up and i know misery loves company, but im sorry those days are over. I had a good run, Amsterdam and all. Im happy being sober. Im happy being a new me. Giva fuck who thinks of me different, you didnt care about me in the first place if you cant be proud and happy for me for growing and starting a new chapter. Im not your puppet or your tap dancing drug addict here to be your miserable muse, i always made music for me to help myself find understanding. I have finally learned from the words in my songs. I love who loves me and who really cares about me.

Learn from this, theres always light at the end of the tunnel. Hell does have an exit, and i found it. For those who are looking for a way out, i left the door open, and ill be waiting for whoever wants to grow with me. Peace and Love, Cudi
Maybe he did, maybe he didn't……..either way it won't last for long.
Be the first to receive breaking news alerts and more stories like this by subscribing to our mailing list.