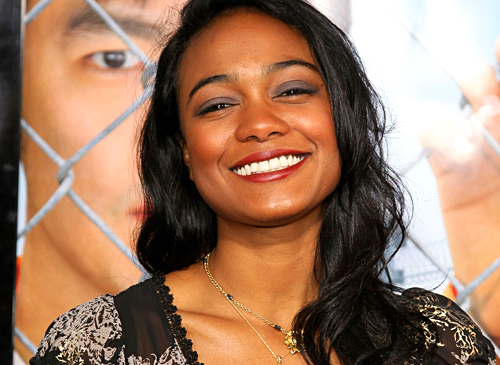 Reunited and it feels so good!
The cast of the "Fresh Prince of Bel-Air" will soon reunite for a good cause. Alfonso Ribeiro (Carlton), Tatyana Ali (Ashley), James Avery (Uncle Phil), Karyn Parsons (Hillary), and of course Will Smith, will have lunch with the winner of a Charitybuzz auction, which Tatyana Ali says will be a night to remember.
"Any time on 'Fresh Prince' when we all had to sit down at the table together, we called them table scenes. We couldn't get up, so we'd be there for hours. In those scenes, the outtakes are ridiculous," Ali told PopEater.com. "We would literally be laughing 'til we cried. So I would expect somebody coming into that to expect to be at a table scene."
The auction, put together by Karyn Parsons for her non-profit organization "Sweet Blackberry," an educational initiative committed to bringing little-known tales of African-American history and achievement to children.
"It's a dining experience with Alfonso Ribeiro [Carlton], Tatyana Ali [Ashley], James Avery [Uncle Phil] and myself, and a meet-and-greet with Will Smith," Parson's told Pop Eater earlier this month. "Will's gonna come by and hang for a minute and meet the winner."
Parsons's organization creates educational animated DVDs telling lesser known stories of black history.
"The DVDs Karyn creates for kids are beautifully done," Tatyana said about Parson's project. "They're really sharing these great African-American stories for all children. It really brings the stories to life. I think it's very important and very apropos — 'Fresh Prince' did this too — for us to realize the commonality, how much we share in common."
Tatyana Ali,who stars in a new TV One sitcom called "Love That Girl" explained that she can't remember the last time the whole "Fresh Prince" cast sat down together. She also had a few words for the Charity winner.
"Expect a lot of laughter, a lot of warmth. We're all individually pretty warm people," Ali says. "And I'm pretty sure we're all really looking forward to it."
Wow! The entire "Fresh Prince" cast (minus Jeffrey and Vivian) under one roof? Sounds exciting! How about a Fresh Prince reunion episode?
What are your thoughts?
Be the first to receive breaking news alerts and more stories like this by subscribing to our mailing list.