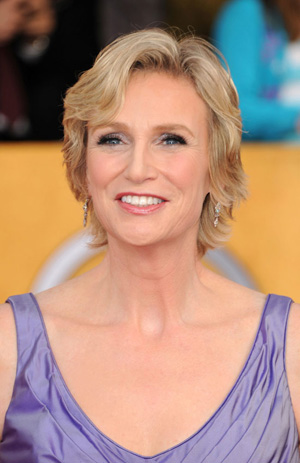 Jane Lynch has a story to tell…..
The 50 year-old "Glee" actress is in the works to release her very first memoir, "Happy Accidents."
"If I could go back in time and have a conversation with my 18-year-old self, the first thing I'd say is, 'Lose the perm, Second, I would say, 'Relax. Really — just relax. Don't sweat it,'" she stated.
Lynch believes with her autobiography, where the comedic actress will open up about her sexuality and battle with alcoholism, she can show others that things aren't nearly as bad as they fear.
"For a long time, I was anxious and fearful that the parade would pass me by, and that someone or something outside myself had all the answers. Having finally reached a happy place — a happy accidents place — I want to share my story with others, to let them know things aren't as bad as they fear."
The memoir will be released in September.
This should definitely be a good read…everyone knows Jane Lynch is one crazy mo'fo!
Be the first to receive breaking news alerts and more stories like this by subscribing to our mailing list.