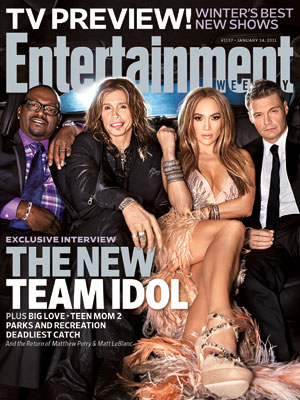 Jennifer Lopez stands out like a mofo as she poses alongside her fellow American Idol judges Randy Jackson and Steven Tyler, as well as host Ryan Seacrest, on the cover of the latest edition of Entertainment Weekly Magazine.
The four AI personalities, dubbed "The New Team Idol," reveal that the show will be much different now that Simon Cowell has left the building.
"It's aged the show down a bit," deadpans Seacrest of Cowell's absence, while Jackson laughs. "There are less clouds of smoke. We start earlier. There's less — what is that English dish he always ordered for lunch? Shepherd's pie? He loves shephrerd's pie."
Click the link below for more!
"No, it's the blood pudding," jokes Jackson, before he turns serious. "Look, it's definitely been interesting. We definitely miss [Simon], but it's a different kind of vibe. It's a different kind of energy now. And I think in season 10 the show actually really needed it….It's not about replacing him or any of the others: Paula, Ellen, Kara, anybody else. People have been saying to us, 'Who's mean?' We've all traded off on that because I think you have to always give people the truth, no matter what."

"We're more of a collaborative judging group," adds Lopez. "We're always leaning over to each other and saying, 'Oh my God, I think she's good.' 'Oof, I don't get it.' 'You don't like it?' I mean, not in a way where it becomes disrespectful to [the contestant's] moment, but we discuss things. We just have a totally different style than any of the past judging tables."

And what has Tyler made of all the talent he's seen auditioning for the show? "It's just astounding," he says. "We throw the drift net out and look what comes up? Gold. [I'm] crying, honestly, from someone who hit the notes so sweetly and beautifully, not just that it's the end of the day and thank God this motherf—er is the last one. Not that."

"See?" smiles Seacrest. "It's going to be an all-new show."

Source: EW
For more on the new season of American Idol, pick up the Winter TV Preview issue of EW Magazine, on stands as of today (Fri. Jan 7)!
American Idol Season 10 premieres on January 19th 2010 at 8/7c on FOX.
Thoughts?
Be the first to receive breaking news alerts and more stories like this by subscribing to our mailing list.