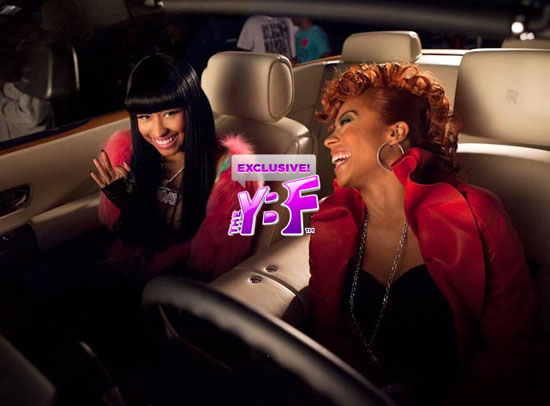 Check out this picture of R&B singer Keyshia Cole and Young Money rapper Nicki Minaj on the set of their "I Ain't Thru" music video! The track is the first of two singles to precede Keyshia Cole's upcoming self-titled fourth studio album (due in stores Dec 21) and the video for it was shot over the weekend in Los Angeles. Hit the link below to see what Keyshia Cole had to say about how she and her new BFF Nicki Minaj hooked up to record the new song…
"I had recorded it as one of the first songs on the album, but I never really finished it," Keyshia explained to MTV News on the set of the video. "And then I called [Nicki] and I was like, 'We should do a song together.' And when she came through I played it. I said, 'I did something a long time ago and I don't know if you might like it, but my manager thinks this is dope.' And I played it and she liked it."
The song, the video and Keyshia's new album all mark the R&B singer's return to the music scene after taking a break to get pregnant and engaged. Keyshia got engaged to Cleveland Cavaliers basketball player Daniel "Boobie" Gibson in January of this year, and gave birth to the couple's first child Daniel Jr. a few months later in March.
Your thoughts on the pic?
Be the first to receive breaking news alerts and more stories like this by subscribing to our mailing list.