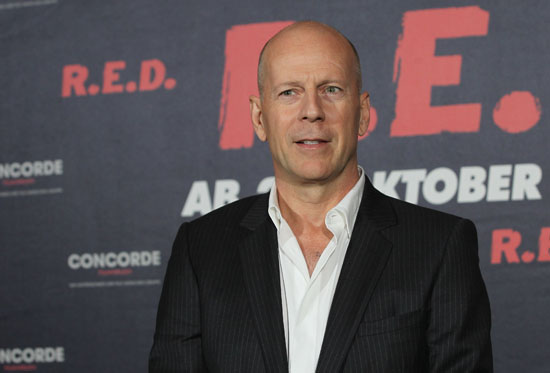 Bruce Willis is worried that he's too old to keep playing action hero "John McClane" in the popular "Die Hard" film series.
The 55-year-old actor, currently filming "Die Hard 5," admits that while he thinks his job is safe at the moment, after "Die Hard 6" (to avoid being replaced or written out of the script) there will be no more John McClane. In a recent interview with FHM Magazine, Bruce Willis said:
"In the next few years they could easily find a replacement for me or call the character someone else. But for me, I want to do Die Hard 5, then one final Die Hard movie — Die Hard 6 — before finally hanging that white vest up for good. At the moment, I can run and I can fight on screen. But there will come a time when I no longer want to do that. That's when I'll step away from the Die Hard films."
The actor also revealed that a disagreement with the film's producers inspired him to coin a new key line for his character in the film.
"Take the first 'Die Hard', I was the one who came up with the line, 'Yippee ki-yay motherf****r!' The producers were trying to give me their take on how I should say a certain line at that point in the movie, and I disagreed. So they said, 'You do it'. So I did. Yippee ki-yay was some goofy thing that cowboys used to say in those movies, so I added the 'motherf****r' bit as I thought it was a nice, contrasting combination of the two images. And it worked. That expression's really stuck around, that's for sure."
While "Die Hard 5" is still in production, Bruce Willis' latest movie "Red" is in theaters now!
Be the first to receive breaking news alerts and more stories like this by subscribing to our mailing list.