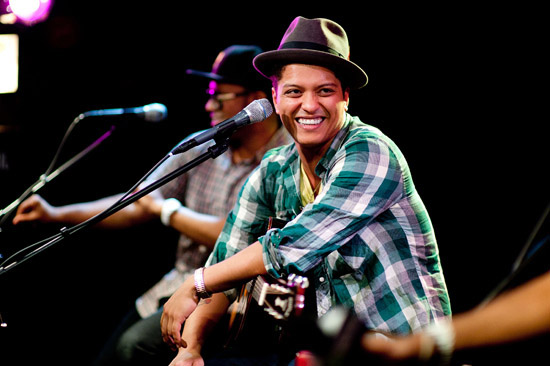 Today is a big day for R&B newcomer Bruno Mars!
His debut album hit stores today (Tues. Oct 5) and as he rides high on the success of his debut single "Just the Way You Are" (which is #1 on the Billboard Hot 100), Mars wants everyone to know how he personally feels about his first full-length studio album. In a recent interview with MTV, Bruno Mars said:
"The EP I put out [this year's It's Better If You Don't Understand] just had a couple songs that I've written, but the album is the body of work," he said. "It rounds everything off, you know. These are my greatest hits.

"There's no way to describe the feeling of seeing your music being recognized. … As an artist, that's what you hope for," he said. "I want the world to fall in love with my music, that's what I'm doing music for. I want to be able to do shows and have people come and see me do my thing.

"I put my heart and soul into any record I do, and I just want them to know I mean what I'm saying. Everything that I write down and perform is coming from me," he smiled. "So I want fans to be like, 'You know what, I want to see the Bruno Mars movie,' and I want them to put on my album, and I want to take them on a journey."

Source: MTV
Meanwhile, Bruno Mars (real name: Peter Hernandez) is facing a different kind of music after his September 19th arrest in Las Vegas. On Friday, the District Attorney in Mars' case filed a criminal complaint against him and charged him with felony possession of a controlled substance (cocaine).
24-year-old Peter Hernandez was in Las Vegas for a concert at the Hard Rock Hotel & Casino's Wasted Space nightclub, and after the show, a bathroom attendant who suspected Mars was doing drugs in the men's room, alerted a security guard who confronted Hernandez as he exited the stall. According to the police report, the security guard asked Hernandez to hand over any drugs he had on his person, which prompted the singer to pull out a bag of 2.6 grams of cocaine from his pocket.
After being taken in for questioning, Hernandez asked the cop "Can I speak to you honestly, sir?" before confessing that he had acted foolishly and had never used drugs before in his life.
If convicted, the "Nothin' On You" (B.o.B) and "Billionaire" (Travie McCoy) singer could be sentenced to four years behind bars and be required to pay a fine of up to $5,000. However since Mr. Mars has a clean record with no prior arrests, the judge is likely to let him off with a stern warning. Bruno Mars is scheduled to appear back in court next month (Nov 18).
Be the first to receive breaking news alerts and more stories like this by subscribing to our mailing list.