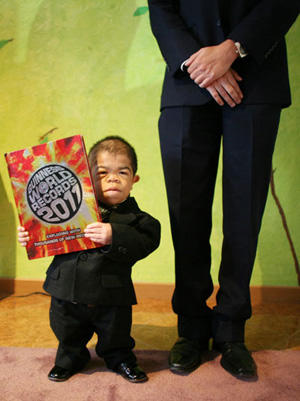 If you're anywhere between 3 feet and 5 feet and you feel like you're short………THINK AGAIN!
The shortest man in the ENTIRE world was officially given the title "World's Shortest Man" by Guiness World Records Monday (Sep 6). 24-year-old Edward "Nino" Hernandez of Bogota, Colombia is a mere 70.21 centimeters (27 inches) tall and is said to be even shorter than the previous title-holder, He Pingping of China, who died earlier this year.
"I am very happy to be recognized as the shortest man in the world. Every person is different and unique," Hernandez said. "The more unusual you are the more you should fight and work harder."
But he might not be the World's Shortest Man for too much longer though…
Hernandez' title could be snatched away from him within the next month or so because the World's Shortest Teenager, a 17-year-old guy named Khagendra Thapa Magar of Nepal, will turn 18 in October and is only 56 centimeters (22 inches).
"It's crazy to think that a human being could get any shorter. Of course, the question is will Niño still have the record by Christmas?" asked Guinness editor-in-chief Craig Glenday. "With 17-year-old Khagendra waiting in the wings, there's a good chance that Nino will only hold the record for a few more weeks."
Hernandez' mother Noemi Hernandez says that her son hasn't grown an inch since he was a toddler and doctors never gave the family a diagnosis on why Edward was so so small. Noemi also says Edward has no major health problems, except that suffers from cataracts in both of his eyes that blur his vision and require surgery.
Hernandez works alongside his parents and four brothers manufacturing pajamas for the family company. And according to the Guiness World Records website, he likes dancing to reggaeton and sala music, as well as playing a little "football" (soccer). Hernandez will be featured in the 2011 edition of the Guiness Book of World Records, which hits stores September 15th here in the United States.
What do you think about the World's Shortest Man?
Be the first to receive breaking news alerts and more stories like this by subscribing to our mailing list.