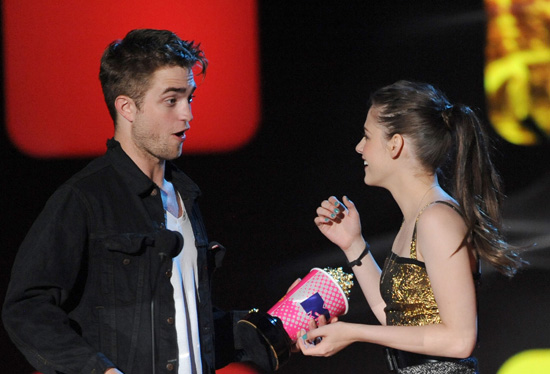 Is Edward jealous? Maybe…
"Twilight" actor Robert Pattinson just can't stand to see his girlfriend (and co-star) Kristen Stewart with another man……even when she's working!
Sources tell Hollywood Life that R Pat is freaking out over the sex scenes Kristen has to do in a new movie with 51-year-old actor Viggo Mortensen. And he's so worried about it that he plans on being on the set when the hanky panky goes down …. you know …. just to make SURE nothing pops off.
"Rob plans on being on the set of On the Road, not because he has a role in the drama, but because Kristen has a real risque part!" an insider tells HollywoodLife.com exclusively. "There are a lot of sex scenes including a threesome, and Rob wants to make sure that it's all pretend from the start and finish of the film."

Furthermore, the 24-year-old British hunk wasn't happy that Kristen, 20, decided to take the role of sexually promiscuous young Marylou Moriarty, the wife of Garrett's troubled drifter, Dean, in the big screen adaptation of Jack Kerouac's Beat Generation novel in the first place! "He didn't like that Kristen was even considering taking this role. He understands that she doesn't want to be known as just Bella from Twilight, and he's doing the same thing with his own career, but he didn't take on a role as risque as hers!"

The fact that sexy Viggo is in the film as Old Bull Run, a married druggie pal of Dean's, is causing a rift between the Twilight lovers. "He's very jealous," our insider says. "Kristen told him she didn't want him on the set because it would make her feel uncomfortable, but Rob said he's going to be there. Especially now that her scenes are with Viggo, who is very very hot! Rob is free until filming begins on the next Twilight film, so he's got all the time in the world to keep an eye on Kristen – and he will."

Source: Hollywood Life
Uh-oh… don't make Edward bring the fangs out!
Your thoughts?
Be the first to receive breaking news alerts and more stories like this by subscribing to our mailing list.