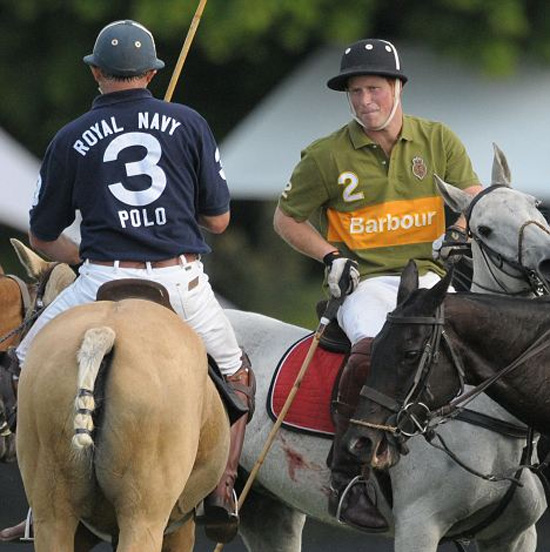 Sounds like Prince Harry has gotten himself into a world of trouble!!
In a new picture being circulated around the web, the famous member of royalty can be seen riding an injured pony, who appears to have been stabbed in the flank by his spurs, during a polo match.
The horse was injured in July, and it is only recently that the public has seen the photo evidence. An onlooker at the match at the Guards Polo Club in Windswor Great Park says that Harry continued to ride the horse even when the horse continued to bleed (which was apparently very visible from the stands).
Animal welfare groups are calling Harry "heartless" and are accusing him of animal cruelty, prompting an investigation to be launched, however St. James' palace is adamant that the 25-year-old prince stopped playing as soon as he noticed his horse was injured.
The horse was injured during a match at the Guards Polo Club in Windsor Great Park, Berkshire, in July, but photographs of the incident have only just emerged. Prince Harry's Household Cavalry team was beaten by the Royal Navy by five and a half goals to five. The Navy had been granted a half goal advantage at the start of the match. Under polo rules, riders who use their spurs excessively face disciplinary action ranging from a warning for a first offence to a fine of up to £50,000. They state: 'Any player intentionally striking another player or any pony with his stick, or abusing his pony by excessive use of the whip or spurts shall be severely penalised.' The rules also say: 'Any spur likely to wound a horse is forbidden.'

Andrew Tyler, director of animal welfare charity Animal Aid, said: 'It was a heartless and utterly selfish thing to do. 'Polo is a very rough activity that causes stress and injuries to horses. The use of spurs in such a fast-moving event is a vicious indulgence. 'Spurs are unnecessary for a competent rider and should not be used to punish a horse for the rider's failure to gain advantage. 'Prince Harry comes from a background of hunting and shooting which is at odds with the vast majority of the British public.'

Tony Moore, chairman of the Fight Against Animal Cruelty in Europe, said: 'Prince Harry is cruel. If a rider uses their spurs in a way that injures a horse then that is cruel.' David Morley, Hurlingham's chairman of welfare, said it was unusual for horses to suffer blood injuries during a polo match. 'The nature of the injury suggests to me that it was as a result of an accident rather than exuberance,' he said. 'Sometimes somebody bumps into another rider and nudges his spurs in.' Mr Morley said that about half of polo players wore spurs, with many believing it is better to 'nudge' a horse with spurs rather than 'thump' it with the heel.

St James's Palace insisted that the prince came off the field as soon as he noticed his mount was injured, adding that horse and rider were able to return to the match after minor treatment. A spokesman said: 'Prince Harry was wearing regulation footwear (round-headed spurs) worn by many polo players. 'As soon as the cut was noticed, play was stopped and the horse was treated properly. The horse was absolutely fine and returned to the field immediately.' He added: 'Prince Harry takes the welfare of his horses incredibly seriously and has been riding this horse for many years. 'He has nothing but the highest respect for the polo ponies and would never knowingly do anything to cause the animals distress.'

Source: Daily Mail
Rut-roh! (Scoopy Doo voice)
Be the first to receive breaking news alerts and more stories like this by subscribing to our mailing list.