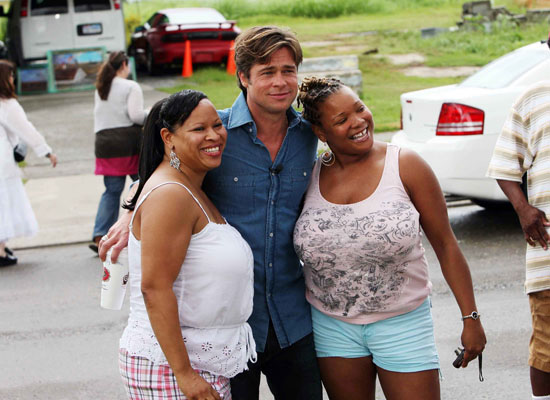 Known worldwide philanthropist Brad Pitt paid a special visit to New Orleans, Louisiana over the weekend to recognize the fifth anniversary of Hurricane Katrina. Pitt was spotted Friday morning (Aug 27) touring homes and taking pictures with fans in the city's Lower 9th Ward, which was harmed the most in the devastating August 29th 2005 hurricane.
Brad appeared on NBC Nightly News Friday and talked about his initial reaction to what he saw when he first visited New Orleans shortly after the hurricane.
"It was unfathomable. I mean, just — you had no idea that there were families and here," Pitt said. "It was just wiped clean. Except for the occasional pile up of homes and — on top of homes."
In 2007, Pitt helped establish the Make It Right Project, which has so far built over 30 "eco-friendly" homes in New Orleans and plans to build up to 150.
"I mean, people's– people build their lives here," he said. "And– and– I mean, New Orleans is a unique place to begin with. And I say– a cultural treasure trove for– for America to begin with. But the thing that struck me was that these people were trying to– you know, these people were trying to get home. And– and were having a very difficult time doing so. And as I got into and started studying it."
Definitely a good look for the always charitable Brad Pitt!
Be the first to receive breaking news alerts and more stories like this by subscribing to our mailing list.