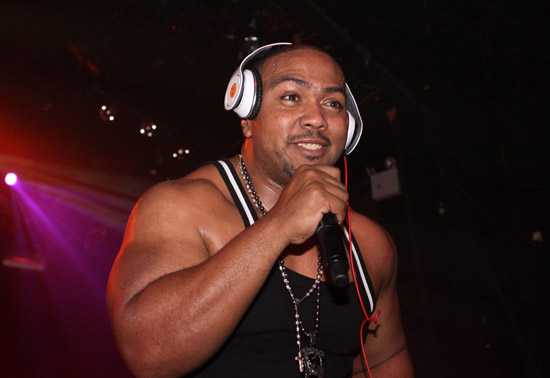 The Internet was buzzing yesterday (Wed. Aug 25) when reports surfaced claiming that rapper/producer Timbaland had fled his home on a mission to supposedly commit suicide after someone had allegedly stole his $2 million watch. When his family couldn't find or get in touch with him, they grew worried and called 911 to report him missing.
In a 911 call posted to TMZ, his mother-in-law can be heard stating that Timbaland was "tired of stress" and was supposedly near a cliff waiting to commit suicide. The L.A. County Sheriff's Department responded to the urgent call and sent out helicopters to find Timbaland, who was eventually spotted and later taken home.
But there's no need to worry about Timbaland because he says he wasn't trying to take his life. He was just trying to clear his head to figure out how to handle a sticky situation (that he didn't elaborate too much on). He also said that it had nothing to do with an expensive watch or anything like that.
Timbaland explained it all on Ryan Seacrest's KIIS-FM radio show. Check it below:
"I don't even know what happened, to be honest," the rapper-producer (real name: Timothy Mosley) told Ryan Seacrest on his KIIS-FM radio show Wednesday, after reports that he tried to commit suicide surfaced online. "I don't know what people are talking about. Why would I commit suicide?"

Earlier Wednesday, news broke that Timbaland, 39, fled his house and wanted to harm himself after someone reportedly stole a $2 million watch from his collection. "Something did happen," he told Seacrest, confirming that he was robbed. "It wasn't a watch [that was stolen]. It was something else." And, Timbaland says, he "took a drive to figure out how I'm going to handle it," while somebody close to him reportedly called the authorities, concerned about his well-being.

According to the Malibu Lost Hills Sherriff's Department, a caller indicated they "had an emergency," that Timbaland was upset and under stress – and that he left his Malibu house in his Cadillac Escalade. Authorities added that his wife, mother-in-law and friends were unable to find him and were under the impression he had taken some medication before driving off.

Telling Seacrest that those closest to him likely feared for his safety because they hadn't heard from him, the rapper-producer understands that "people got worried." When police tracked him down on the Pacific Coast Highway, he recognized the officer and assured him that everything was fine after being told of his family's concern. "I snapped," he told Seacrest. "I was like, 'Who would report something like that?' "

Amid all the drama, Timbaland returned to the studio Wednesday to record with Keri Hilson. Said Timbaland: "I don't know a person who would [try to] commit suicide [and then] be at the studio."

Source

Be the first to receive breaking news alerts and more stories like this by subscribing to our mailing list.