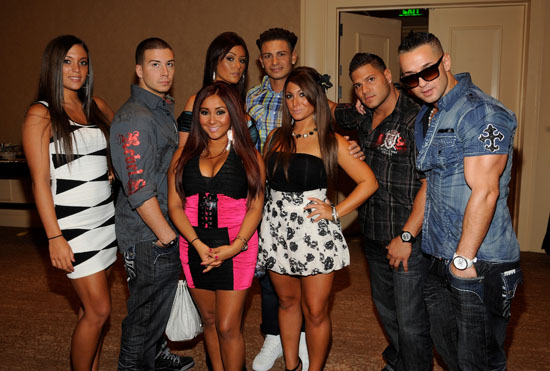 It's hard to believe, but MTV's Jersey Shore is actually a hit!
For three straight weeks, "Jersey Shore," now in its second season, was Thursday's #1 telecast of the day among people aged 12-34 across all of television, according to data released by Nielsen last week.
Episode 203, which aired Thursday, August 12th 2010, saw 5.5 million total viewers and had a series high rating of 5.3 among people aged 12-34, making it the #1 telecast of 2010 for people in that age range.
…….BUT WHY?! Why on earth are almost 6 million people tuning in to watch this crap…..every week?!? Is it like paying $25 bucks to go to the zoo to watch monkeys swing around on trees and throw poop at each other or what?
It's mind boggling!! Why do we all care so much about Snooki, Pauly D and the rest of those retar…. excuse us, MENTALLY CHALLENGED New Jersey buffoons???
PLEASE fill us in…
Thoughts?
Be the first to receive breaking news alerts and more stories like this by subscribing to our mailing list.