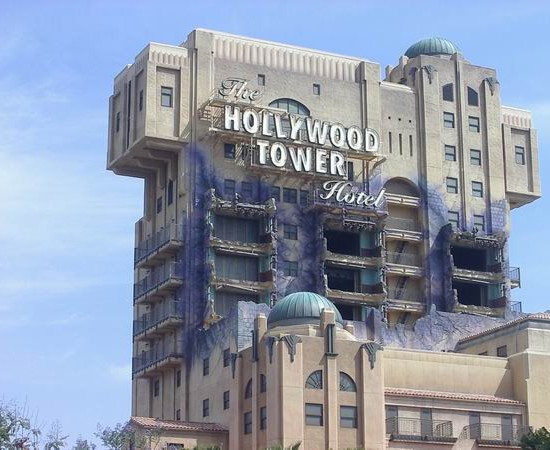 You big dummy!
Some drunk 20-year-old thought it'd be cool to play around and do Parkour tricks (or something) while waiting in line on the "Twilight Zone: Tower of Terror" haunted elevator ride at Disneyland in California…..and got himself injured after he fell 25 feet from a platform while waiting in the queue for the ride.
The local fire department was dispatched after MetroNet of Anaheim received a call at about 10:31 PM Wednesday reporting that a man had fallen after climbing over a rail. He was later treated for minor injuries at the University of California, Irvine, Medical Center and was released.
Shortly after the incident, Disneyland released this statement:
"Last night a 20-year-old male guest fell in the queue line at the Tower of Terror attraction at Disney California Adventure. The guest was standing in line with friends on a second-floor platform when he climbed over a barrier to the area below and lost his balance and fell approximately 25 feet. The guest was transported by ambulance to the hospital."
Gov. Arnold Schwarzenegger signed a legislation today that holds adults in the state of California accountable if youth they serve alcohol to are either injured or killed, and Wednesday's incident will be used as a model for his newly instated law.
A statement from conference organizers read:
"California becomes one of just a few states with a social host liability law that hold adults accountable for underage drinking," reads a statement from conference organizers. "Underscoring the significance, the signing comes one day after a 20-year-old who Anaheim police say had been drinking fell 25 feet from a Disney theme park ride, injuring himself."
Good job, kid! You could have REALLY hurt (or killed) yourself, SMH…
Be the first to receive breaking news alerts and more stories like this by subscribing to our mailing list.