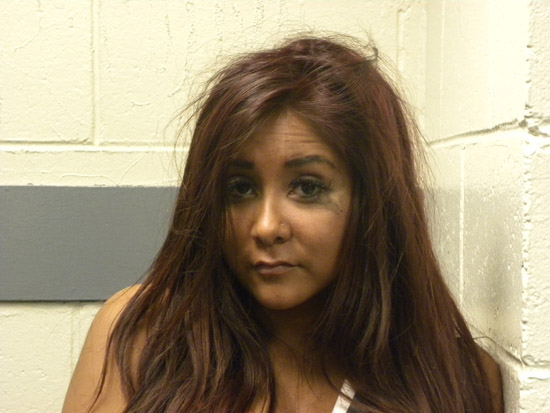 Well damn…
Nicole "Snooki" Polizzi, star of MTV's trashiest reality show "Jersey Shore" was OFFICIALLY charged yesterday (Wed. Aug 18) with annoying people on the beach. According to AP, this charge comes from when she was arrested last month on a beach in New Jersey after she got uncontrollably inebriated. And the MTV cameras were rolling the entire time, SMH…
Snooki also faces charges of disorderly conduct and public nuisance, in addition to the "annoyance" charge which was added during a court hearing Wednesday in Seaside Heights, NJ. Raymond Raya, Snooki's lawyer, entered a not guilty plea on behalf of his client for all three charges.
Snooki wasn't present for the hearing, however her trial is scheduled for September 8th. If she's convicted, she can face up to $2,000 in fines. So far her attorney has declined to comment the charges.
Damn Snooki! We're still stuck on the fact that you can REALLY get arrested for being annoying! People are gonna be blowing up the 911 hotlines FOR REAL now!!!
Be the first to receive breaking news alerts and more stories like this by subscribing to our mailing list.