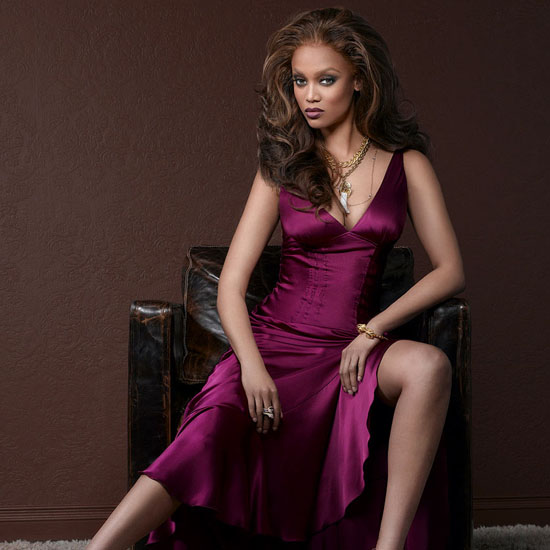 Supermodel turned TV personality/executive Tyra Banks recently came under fire after the release of a promotional video for the upcoming season of her show "America's Next Top Model" showed off a tall, 6-foot-2 aspiring model from Dallas with a shockingly thin waist. I
n the clip, Banks told the model: "You have the smallest waist in the world" before saying "There's something about her I like!"
But now Tyra Banks is apologizing on behalf of her team for letting that clip make it into the final cut of the promo, assuring folks that that the cut has been "removed from the CW airwaves, and the message conveyed in that video was NOT intentional, and is clearly not 'Top Model' or Tyra-approved."
Peep Tyra's full statement and the video clip of the model with the incredibly small waist (you have to see this to believe it!) below:
First and foremost, I want to give a personal shout-out to each and every one of you who spoke out and took a stance on the Top Model Cycle 15 teaser trailer that was released last week. My life's mission is to expand the definition of beauty – EVERY kind of beauty! This is one of the reasons I created "America's Next Top Model" just 8 years and 15 Cycles ago…since then we've challenged all different stereotypes of beauty with race, weight, height and beyond. The overwhelming response sparked by the Top Model trailer shows that the overarching message of the show – to accept and celebrate all types of beauty – is reaching and affecting our viewers. I knew I had to address this once I realized that this message was on the line.

On behalf of the entire Top Model team, I am truly sorry for the style in which the Top Model promo clip was presented. Like all of my projects, I am extremely involved in "America's Next Top Model" from casting the final contestants to conceptualizing the episode challenges, but with all the work and details that go into producing a TV show, I can't be 100 places at once (although I try), but it's just impossible for me to see everything that's created before it's released to all of you! That being said I can assure you – that cut has been removed from the CW airwaves, and the message conveyed in that video was NOT intentional, and is certainly not Top Model- or Tyra-approved. The Top Model team is extremely talented and truly enjoys creating fun, engaging promos and episodes for you. The team really wants to entertain you, while promoting and embracing multiple forms of beauty. Sometimes in the quest to have fun in a limited amount of time, especially in a 20-second promo, our overarching message can be misconstrued, and in this case it most certainly was.

To the people who see me as a representation of upholding the fact that beauty comes in all sizes, I personally apologize. The jokes of my fellow judges connected with my edited sound bite sounded like I was supporting unhealthy eating habits. This has never and will NEVER be the case – I am and will always be committed to promoting healthy body image.

As a pre-teen, much of the body image pain I experienced was NOT being able to gain weight. Being so incredibly thin, I was the receiver of countless stares; feeling helpless. I've also been (VERY) publicly attacked for being bigger. Being on the receiving end of both sides of that pain has really shaped my perspective.

I want the media and viewers to continue to challenge perceptions of beauty, but to understand that BEAUTY comes in all shapes, sizes and proportions. I have always celebrated uniqueness, and encourage women, myself included, to accept and embrace their own bodies – flaws and all! Whether it's exaggerated curves (or lack thereof), bee sting boobies, a juicy booty or a big ole' forehead (eh-hem) – it's about rocking what we've got.

Ann (the young woman featured on the Cycle 15 promo) like so many other women that stand before us on the Top Model judging panel or approach me on the street, was experiencing her own internal struggles with her body, and the cruelty she faces on a daily basis directly related to the way she looks (stemming from her 6'2″ height), some of which is revealed in the upcoming season. I offered her the same level of support and encouragement I've extended to all younger women that have opened up to me – the girls and young women who attended my TZONE camp way back, guests on The Tyra Show, past Top Model contestants and strangers on the street. Having the opportunity to be there and help all of these women drives me to further my mission.

Taking a look ahead, on Sept 15th, week two of the new episodes of Cycle 15, we do a photo shoot that deals with beauty, body image and bullying. This is an issue that I'm passionate about and am so happy we did. The girls really express what they are insecure about in a big way. Many sensitive issues are discussed at the shoot and in the judging room. I'd like to ask you to do something – it would be great if you could show support for them as well as people you know going through similar circumstances. The Top Model girls exposed themselves, to heal themselves and you. For some, it was a painful process.

Again, if you're ever unhappy with anything you see, we want to know. I want to know. Thank you so much.

– Tyra

Source: Tyra.com
We're still "O_O" at the fact that someone was able to simply wrap their hands around that girl's waist with no issues! OMG!!
Thoughts?
Be the first to receive breaking news alerts and more stories like this by subscribing to our mailing list.