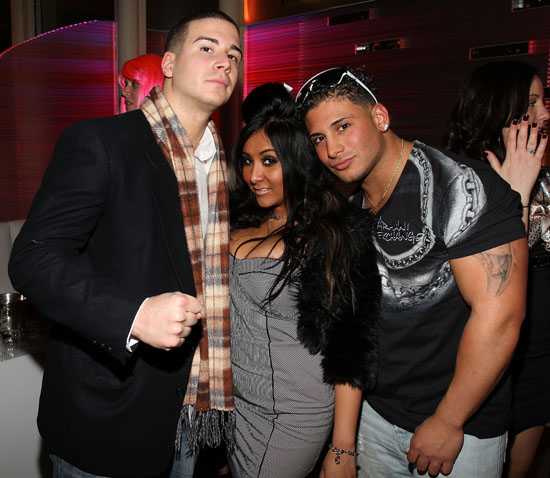 Snooki's ex boyfriend Emilio Masella says that he's "humiliated" after seeing the MTV reality star on TV groping, hunching and trying to get it in with her "Jersey Shore" co-star Vinny!
In an episode of MTV's "Jersey Shore" that aired Thursday (Aug 12), a noticeably drunk Snooki called Emilio around 6 in the morning as she was feeling Vinny up. She then followed Vinny back to his room and ask him if he "wanted to f**k" (HER words, not ours!) and he said "Sure!" Then the two woke up the next morning and claimed to have NO idea what happened the night before…
"Did I bang Snookie last night?" asked Vinny. "Did I do the unthinkable?"
Funny stuff right? Wrong. Snooki's ex boyfriend Emilio is NOT amused. He told RadarOnline.com:
"How could she do this to me? I feel like a fool trusting her… My ex is a whore! I am doing an appearance at a club tonight (Thursday) and there are about 400 people here watching Snooki humiliate me on a huge screen. People are apologizing to me and offering to buy me shots. … But I can't believe it… I never cheated on her and never would… It was Snooki who always accused me of cheating."
Damn homie! How embarrassing…
Emilio also told Radar Online that after he saw the episode he called the house and confronted Vinny:
"I called Vinny at the Seaside Heights house and asked him if he f***ed my girl. He hung up on me, so I called back and asked him again but he is such a sissy, he passed me to Jenni (J-WOWW). He did that because his mommy wasn't there! Jenni told me she was going to call the police if I called there again and I told her she was a wh*re too because she cheating on Tom (Lippolis)."
If you ask us, they're ALL pathetic (including this Emilio guy)….
Be the first to receive breaking news alerts and more stories like this by subscribing to our mailing list.