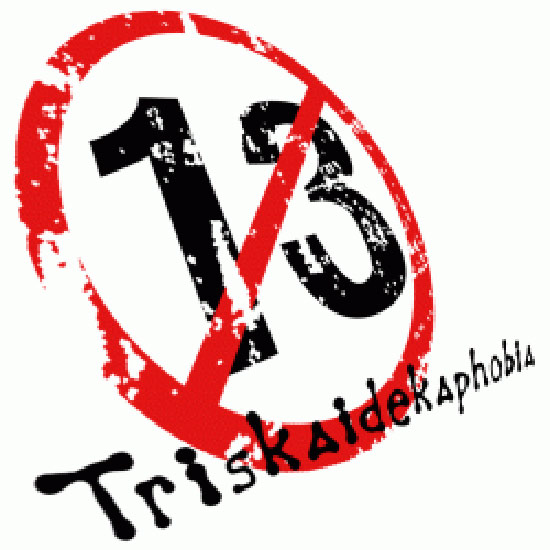 Today is Friday the 13th….and for all you superstitious people out there you may have Triskaidekaphobia!
We have no clue how to pronounce this word, but it means the fear of the number 13….and apparently millions of people suffer from it.
For more about Triskaidekaphobia, check out the excerpt from the National Geographic below:
Friday the 13th superstitions are rooted in ancient bad-luck associations with the number 13 and the day Friday, said Donald Dossey, a folklore historian and author of Holiday Folklore, Phobias and Fun.

The two unlucky entities ultimately combined to make one super unlucky day.

Dossey traces the fear of the number 13—aka, triskaidekaphobia—to a Norse myth about 12 gods having a dinner party at Valhalla, Norse mythology's heaven. In walked the uninvited 13th guest, the mischievous god Loki. Once there, Loki arranged for Hoder, the blind god of darkness, to shoot Balder the Beautiful, the god of joy and gladness, with a mistletoe-tipped arrow.

"Balder died, and the whole Earth got dark. The whole Earth mourned. It was a bad, unlucky day," Dossey said.

There is also a biblical reference to the unlucky number 13. Judas, the apostle said to have betrayed Jesus, was the 13th guest to the Last Supper. (See "Lost Gospel Revealed; Says Jesus Asked Judas to Betray Him.")

As for Friday, it's well known among Christians as the day Jesus was crucified. Some biblical scholars believe Eve tempted Adam with the forbidden fruit on Friday. Perhaps most significant is a belief that Abel was slain by his brother Cain on Friday the 13th.

Meanwhile, in ancient Rome, witches reportedly gathered in groups of 12. The 13th was believed to be the devil.

In modern times, many triskaidekaphobes point to the ill-fated mission to the moon, Apollo 13.

Thomas Fernsler, an associate policy scientist in the Mathematics and Science Education Resource Center at the University of Delaware in Newark, said the number 13 suffers because of its position after 12.

According to Fernsler, numerologists consider 12 a "complete" number. There are 12 months in a year, 12 signs of the zodiac, 12 gods of Olympus, 12 labors of Hercules, 12 tribes of Israel, and 12 apostles of Jesus.

In exceeding 12 by 1, Fernsler said 13's association with bad luck "has to do with just being a little beyond completeness. The number becomes restless or squirmy"—not unlike some folks with triskaidekaphobia today.

Source: National Geographic
Be the first to receive breaking news alerts and more stories like this by subscribing to our mailing list.