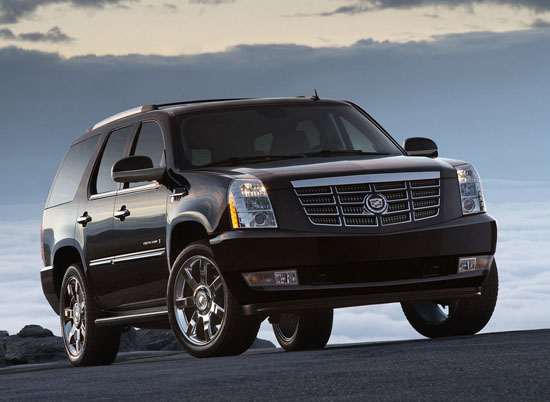 Own an Escalade? There are two things you need to make sure you do at all times: (1) Park in well-lit areas and make sure your car isn't far off by itself and (2) double check that your doors are locked and your windows are rolled up. Why? Because Cadillac Escalades are ranked No. 1 when it comes to auto theft in the United States! Along with the Ford F-250 pickup truck, Infiniti G37 luxury sedan, Dodge Charger, and Chevrolet Corvette Z06 the Cadillac Escalade tops an annual list of new cars most likely to be stolen.
Peep the full story below:
The blinged-out Cadillac Escalade SUV, a favorite of A-listers like Tiger Woods, is once again the vehicle voted most likely to be stolen, according to an insurance industry group. The F-250 crew cab pickup, Infiniti G37 luxury sedan, Dodge Charger with its high-power HEMI engine and Chevrolet Corvette Z06 round out the list of the top five vehicles most likely to be the subject of insurance theft claims. Least likely targets of thieves are family vehicles like the Volvo S80, Saturn Vue and Nissan Murano, Honda Pilot and Subaru Impreza. The Highway Loss Data Institute, which is part of the Arlington-based Insurance Institute for Highway Safety, calculated theft claim rates for vehicles from the 2007-2009 model years. The data reports thefts per insured vehicles on the road.

The Escalade, which starts at $62,495, has ranked as the most-stolen in six of the last seven reports. A theft claim is filed for one out of every 100 insured Escalades, the group said, and the average insurance payout is $11,934. That compares with an average of $6,883 for all vehicles. Almost one in every four Escalade theft claims is for $40,000 or more. Escalades are equipped with antitheft ignition immobilizers that prevent them from being started without a special key, but that doesn't prevent some thieves from hauling them away on flatbed trucks, said Kim Hazelbaker, senior vice president of the Highway Loss Data Institute.

"Thieves are after chrome, horsepower and HEMIs," she said.

Large SUVs like the Escalade have the highest overall theft losses, with large pickups second. Hazelbaker said trucks are targeted for various reasons. In addition to their looks, large pickups can be used for work or they might be carrying valuable tools or cargo.
Be the first to receive breaking news alerts and more stories like this by subscribing to our mailing list.