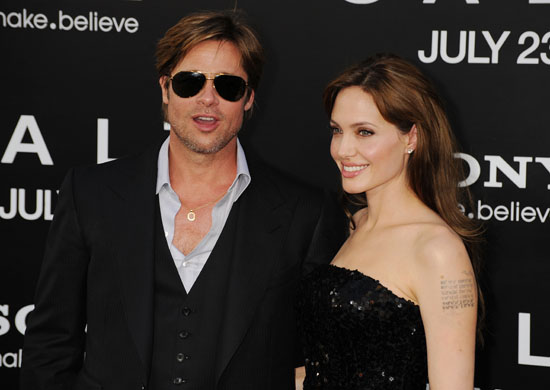 Don't mess with Mr. and Mrs. Smith!
Brad Pitt and Angelina Jolie won a court case Thursday (Jul 22) in Great Britain against British tabloid "News of the World," after the UK publication erroneously reported back in January that the couple (who aren't married) had paid a visit to a divorce attorney and were negotiating an agreement to break up. They even went as far as to say that they had met with lawyers to arrange custody for their children.
But after a judge's ruling in favor of the Jolie-Pitts, The News of the World has agreed to publicly apologize to the couple, in addition to paying an undisclosed sum for damages and to cover their legal fees. The money will be donated to their charity, the Jolie-Pitt Foundation.
The newspaper argued that they acted in good faith, but a statement from Brad and Angelina's attorneys said that Sorrell Trope (identified as the divorce lawyer the couple had allegedly met with) had never met the couple.
"When the News of the World failed to publicly retract the allegations and apologize for them — thereby leaving their readers in the dark as to the true position — the couple felt they had no alternative than to sue. Today's victory marks the end of the litigation brought by Brad and Angelina."
Neither Brad nor Angelina were present in court and have declined to comment further on this.
Be the first to receive breaking news alerts and more stories like this by subscribing to our mailing list.