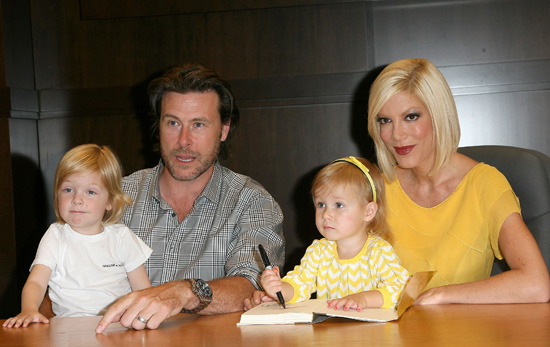 These damn celebrities and their kids!!
Actress Tori Spelling and Canadian actor Dean McDermott's son Liam is not your average 3-year-old. While most toddlers his age spend the majority of their time playing with toys and taking cat naps, the little lad is posting to his very own Twitter account. (Yes… we said Twitter!) And he even has a pretty decent following! So far Liam has been able to gather more than 15,000 followers though his LiamsWorld account and often posts cute, but funny messages such as:
"Mama the moon ate the sun and made it dark. Will he burp him up tomorrow so it'll be a nice day?" And, "I love making jello castles. Jello wiggles and parties in my tummy."
So what does mom and dad have to say about all this??
"The response was not what I expected. It was insane." Tori told People Magazine on Tuesday.
She also went on to mention that within 6 hours of launching her son's account more than 10,000 followers were already tuning into what the kid had to say.
Wow… He's definitely going to be popular when he grows up! But a 3 year old with a Twitter account is a bit much, don't you think?
Your thoughts?
Be the first to receive breaking news alerts and more stories like this by subscribing to our mailing list.