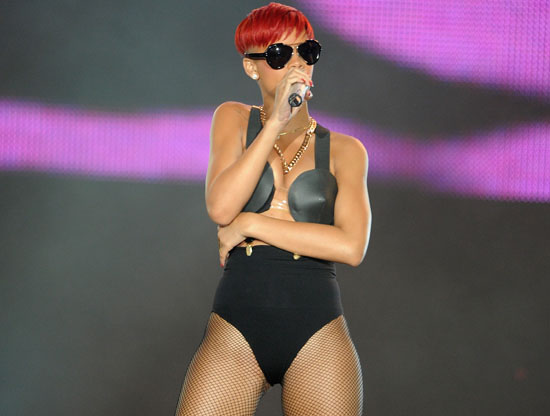 Rihanna's lackluster "Last Girl on Earth" Tour has been doing fairly well overseas. But over hear in the U.S.? Not so much. Folks over here just don't want to spend their hard-earned dollars on watching a model pretending to be a singer flop around in front of them when they can sit in the comfort of their own homes and watch her do the same thing on YouTube. So because of low ticket sales, promoters are having to cancel dates left and right!
As of this morning, two shows — one in Denver and the other in Indianapolis — have been axed from the summer itinerary. And according to Live Nation, shows in Phoenix (Jul 22), Dallas (Jul 24) and Atlanta (Jul 28), all fairly large cities within their own right, have been canceled as well.
But not everyone is feeling the burn of the recession. Much more popular and talented acts like Lady Gaga, Justin Bieber, Taylor Swift and others are doing very well at the box office proving that people don't mind spending money on concerts, as long as the performer(s) have talent.
Be the first to receive breaking news alerts and more stories like this by subscribing to our mailing list.