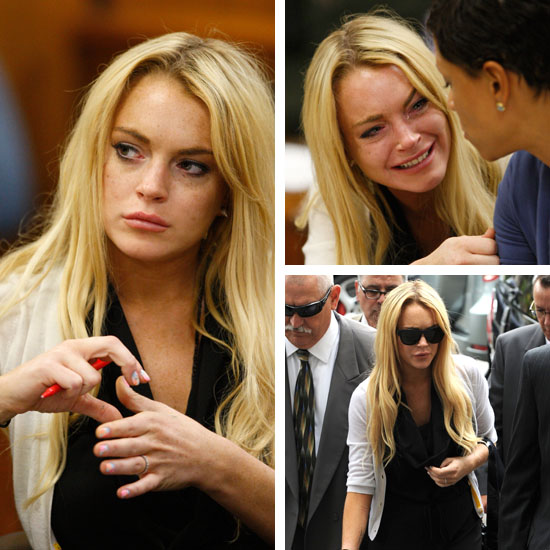 Looks like it's a wrap for Lindsay Lohan!
The actress was just sentenced to spend 90 days in jail by Judge Marsha Revel for violating her probation. Reports from the alcohol counseling session Lindsay was attending claimed that she "kept making up creative excuses" as to why she did not attend the session. The judge also pointed out Lindsay's numerous lies in the past regarding car accidents, etc. and didn't seem to care much about her tears when she had a chance to speak.
Lindsay was sentenced to spend 90 days in jail plus an additional 90 days in rehab, which she must report to within two days of her being out of custody. She must surrender herself to the court within two weeks, the deadline being July 20th at 8:30 and she must still wear her SCRAM bracelet 'til then.
Her father Michael Lohan was present during the hearing but was not allowed to speak; he has made it known that Lindsay needs rehab though, not jail. He is still hoping that if Lindsay checks herself into a rehab facility before her incarceration, she can save herself from jail. Steve Whitmore, a spokesman for the LA Sheriff's Department, spoke to the media after the sentencing and announced that typically, a female inmate will only serve 25% of their actual sentence which on Lindsay's part is only about 25 days. Only time will tell how much time she actually serves though.
While we honestly feel for Lindsay (even though she is a broke, drunk, debt-ridden, cocaine-addicted mess) this might really be the best decision. Nothing else seemed to be working and the poor child needs a serious wake up call. Hopefully this will be it. Because something is definitely wrong with this child…
Be the first to receive breaking news alerts and more stories like this by subscribing to our mailing list.