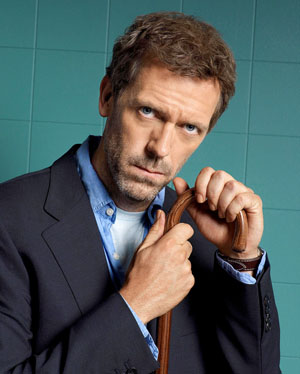 Dr. House? Smiling? No way!
Actor Hugh Laurie recently told Entertainment Weekly Magazine that his character on the hit Fox TV show "House" might get the chance to show off his happy side when Dr. Gregory House falls in love with his boss, Dr. Lisa Cuddy. In the upcoming season premiere, the couple will be seen laughing and enjoying each other's company on the beach, and in order to get the part just right, the 51-year-old actor said that he even had to undergo "happiness training" before filming for the new season started. Laurie told EW:
"Even the appearance of happiness [in House] has taken some getting used to. I had a week of happiness training before the season started up, and I'm whistling more than usual. I've always thought of House as a romantic, and I don't think romantics are much given to comparing. But speaking as a friend of House, he seems to be attracted to strong women. He likes to get as good as he gives—and I mean that in as many senses as are suitable for a family readership."
Earlier this year, Laurie spoke on his initial doubts about the now popular television series. The British actor, who has a wife and three children, revealed to the Times of London newspaper back in February that he lived in a Los Angeles hotel for 8 months when he started working on "House" six years ago. He was "so convinced" that the show would fail that he made the Chateau Marmont hotel in L.A. his home for nearly a year because he was afraid to buy his own home in the U.S.
"I was so convinced the whole thing was going to fail, I couldn't contemplate committing to any long-term arrangement. I thought a hotel was a safe bet.

"There are a lot of days when I feel as if I have been woken from a coma and told six years have gone by, and I have no awareness of it. Is Queen Elizabeth still on the throne? Do we still drive on the left? Do we still have pounds?

"I have almost been playing House long enough to have qualified to become a doctor."
House is now a critically acclaimed award winning television series and was among the top 10 rated shows in the United States from its second through fourth seasons. Distributed to over 60 countries, "House" is still one of the most watched television programs in the world after 6 seasons on television.
Fox recently announced that the show will return for a seventh season later this year.
Be the first to receive breaking news alerts and more stories like this by subscribing to our mailing list.