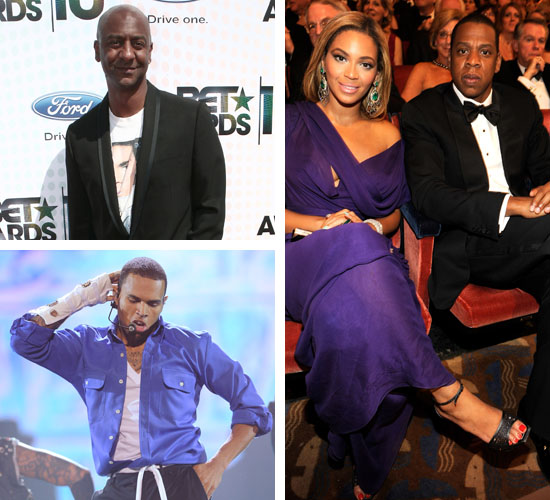 BET Executive Vice President of Entertainment and Music Programming Stephen Hill is in damage control mode in an effort to clear up bogus allegations that Chris Brown used eye drops to help him cry during his Michael Jackson tribute at the 2010 BET Awards, held this past Sunday evening (Jun 27) in Los Angeles, CA. Hill also shut down rumors alleging that Jay-Z kept Beyonce and Rihanna from the show because he didn't approve of the Chris Brown performance.
On the rumor that Chris Brown's bodyguard gave him tear inducing drops so that he could "fake cry"

I think the pressure of the year and the lyrics of that song really just resonated. And, as someone who was backstage, there was nothing fake about that. I think there is a US Weekly story today about like his bodyguard gave him something to induce tears. Its just not true. I've been around actors who cry and when you fake cry, you don't get…your throat doesn't get swollen like it does [when you cry for real]. When he was trying to sing, he couldn't get anything out. That's a hard thing to fake. I appreciate people wanting to create controversy, but this guy has gone though a lot this past year, let this emotion be what it is. Everybody comes to the moment where you gotta make that change.
On the rumor that Jay-Z, Beyonce and Rihanna missed the awards before of the Chris Brown performance

They missed the awards, because…we have this conversation almost every year. And, some years we are really fortunate when Jay-Z and Beyonce are in the house and other times, they go on vacation. But I can absolutely say without reservation that there was no conversation at all around, "If Chris Brown's coming, I'm not coming." That's just false.
Spotted @ Necole Bitchie
Be the first to receive breaking news alerts and more stories like this by subscribing to our mailing list.