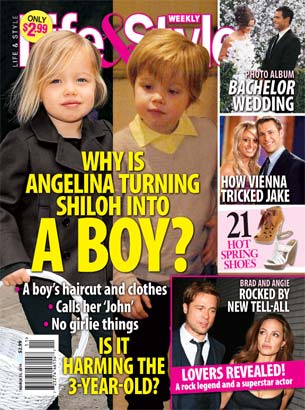 Lawd have mercy…
We're not exactly sure what's going on, but Angelina Jolie and Brad Pitt clearly are the type of parents that will allow their children to pretty much do whatever they want regardless of how old they are. They seem like the "free spirit" type, right?
Well, now the parents (mainly Angelina) are under fire for allegedly turning their 4-year-old daughter Shiloh into a little boy. At least that's what Life & Style Magazine (see left) says.
Now, you've probably noticed yourself how baby Shiloh has always looked … "butch." And Angelina isn't making things any better because in a recent interview with Vanity Fair Magazine, she spoke about how she allows her daughter to "dress like a little dude."
Continue reading for more…
"(Shiloh dresses) like a little dude. Shiloh, we feel, has Montenegro style. It's how people dress there. She likes tracksuits, she likes (regular) suits. She likes to dress like a boy. She wants to be a boy. So we had to cut her hair. She likes to wear boys' everything. She thinks she's one of the brothers."
And how old is little Shiloh? Jolie went on to talk about Shiloh's humer:
"(She's) goofy and verbal, the early signs of a performer… I used to get dressed up in costumes and jump around. But at some point, I got closed off, darker. I don't remember anything happening. I think you just get hit with the realities of certain things in life, think too much, start to realise the world isn't as you wished it would be, so you deepen. Then, as I had kids and got older – being goofy, lighter – it all came back."
Be the first to receive breaking news alerts and more stories like this by subscribing to our mailing list.