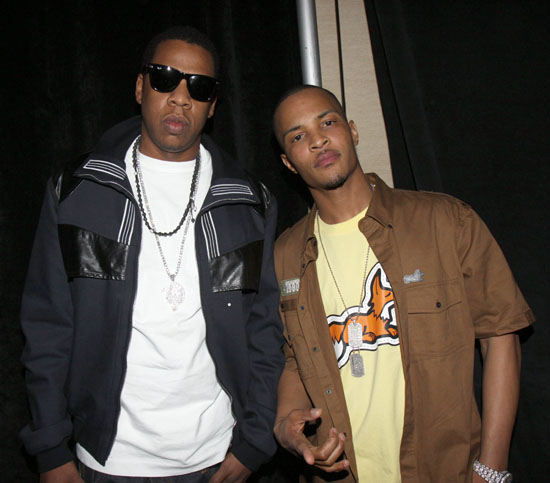 For a minute, it appeared like just about every rapper was planning on following in the footsteps of Jay-Z and continue rapping past the age of 40 (you know, since Jay makes it look so easy), but T.I. says that ain't happenin' for him. During a recent interview with CNN
, the self-proclaimed KING, who turns 30 this September, made it very clear:
"I'm not going to be the 40-year-old rapper. I would not.
"That's Jay. He's doing it very well. Hats off, but I just don't see that for me." Tip, who will release his new album King Uncaged on August 17, prefers to take the path of another super-successful rapper. "If I had the option to [be] Jay-Z [or] Will Smith, I think I'd go with Will," he revealed. "I'm a Jay-Z fan. I have a lot of admiration and respect for Jay and his legacy. But I feel like Will, he gets to spend more time with his family. He gets to be home more and actually raise his kids. I feel like he has more of a home life…and the money don't hurt. Twenty million dollars a flick ain't bad."
Well said. That could have easily been turned into a diss towards artists like Jay-Z and Diddy, but he did a great job of clarifying his reasoning for not wanting to rap past 40 years old. And Tip ain't a bad actor. We could definitely see him going the Will Smith route somewhat!
We just hope that he is stacking his chips right, so that he can truly be retired unlike a lot of these old heads out here. (Haha! j/k)
Be the first to receive breaking news alerts and more stories like this by subscribing to our mailing list.