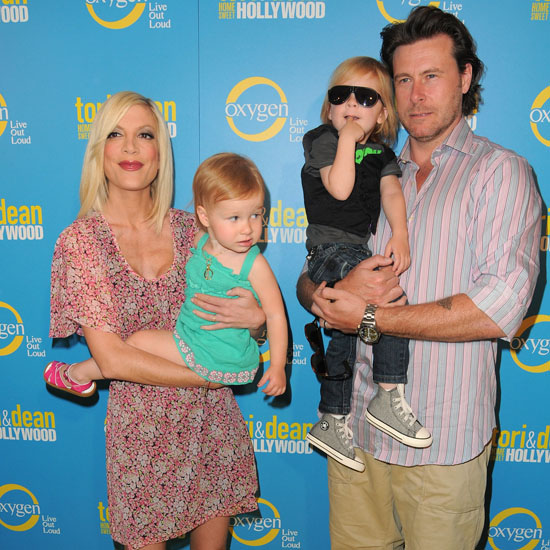 Poor little insecure Tori Spelling! **insert sad face here**
The 37-year-old actress recently went on Ryan Seacrest's KIIS-FM radio show to promote her new book, titled "Uncharted terriTORI", where she said some very personal stuff including her fear that her husband, Dean McDermott could possibly cheat on her. Well, during her radio appearance, she tried to clear up this portion of the book. Continue reading to see what the mother-of-two had to say about sometimes feeling insecure about her marriage…
"I'm a normal girl, and I worry about that stuff," she explained. "You know how girls are! Girls get jealous. You have to deal with that living all the time. It happens. We are who we are."
She also commented on how Dean is and talked about how weird she feels with her insecurities:
"He doesn't really get jealous," said Spelling, mother to Liam, 3, and Stella, 2. "I feel like an oddball being jealous all the time."
No Tori, what should make you feel like an oddball is trying to talk to your dead father and end up getting Farrah Fawcett instead. Besides, as long as you're handling your business in bed your husband shouldn't have any wandering eyes! We kid, we kid… 😉
Be the first to receive breaking news alerts and more stories like this by subscribing to our mailing list.