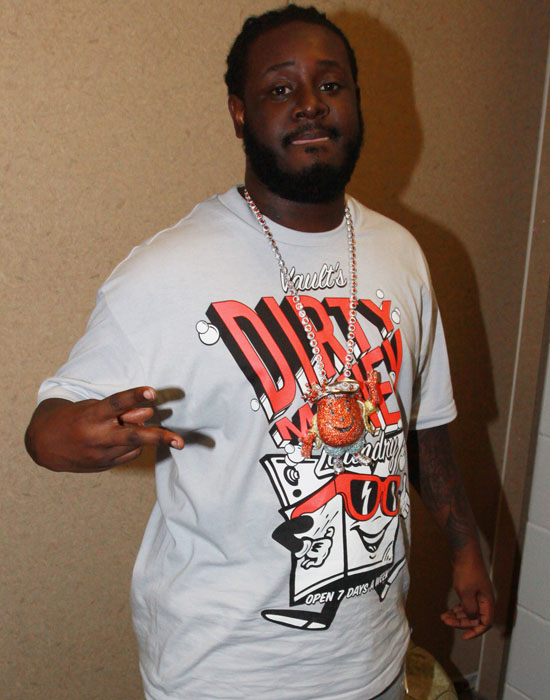 A couple years back you couldn't get away from T-Pain and his "auto-tune" Vocoder thingy. But now things have changed, and the former hit-maker says that he's afraid to put out any new music right now because his peers aren't selling records.
"I got the mastered version of my album in my car right now. But I'm not bringing my album out until these artists start selling records again, 'cause ain't nobody selling records unless you Susan Boyle…
"I'm not doing nothing. I'm not bringing out no album, not dropping no more new singles until people start selling records again, and that's the approach I think everybody should take unless you Susan Boyle or Miley Cyrus.
Even though he's pumping the brakes on his own upcoming project, T-Pain is still collaborating with other artists and recently teamed up with Roscoe Dash for the track "My Own Step" for "Step Up 3D" soundtrack.
"The song was for somebody else at first, and then they was asking … [T-Pain's label] Nappy Boy: 'Do we have some songs for the "Step Up 3-D" movie?' " said Pain, who sent songs featuring artists such as Sophia Fresh, Tay Dizm and One Chance. "They was like, 'You got some stuff with you on it?' I was like, 'Yeah, here go a song right here.' They came up to me like, 'Roscoe Dash got on.' I was like, 'Yes! We got him!' " T-Pain said, adding, "I've been trying to do a song with Roscoe Dash for a long time."
Be the first to receive breaking news alerts and more stories like this by subscribing to our mailing list.